Soviet WW2 memorials may be removed in Western Ukraine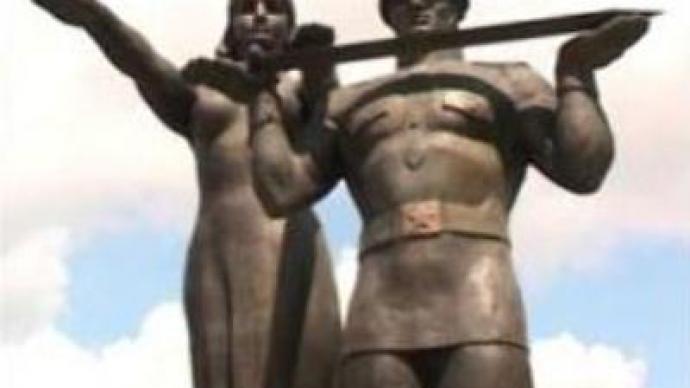 Just weeks after the controversial relocation of a monument of a Soviet Soldier in Estonia, Ukraine could be set to do something similar. Ukrainian nationalists want to lock up the symbols of Soviet history across Western Ukraine in museums.
Aleksandr Kalunuk from the Communist Party said that being a Russian is highly unpopular.
"Radical right-wing parties ask me why I married a Russian, why my daughter studied in the Russian school. They told me that my father made a mistake joining the Red Army. It is nonsense. They want to erase our history to cover up their war crimes,"
Aleksandr Kalunuk pointed out.In the 1940s, Western Ukraine was split between the two worlds – the allies and the Nazis. When Soviet forces arrived, some took their side, others resisted joining the ranks of the Ukrainian Insurgent Army or UPA. It collaborated with the Nazis killing thousands of people during the WW2.88-year-old Timofey Mahanek, Soviet war veteran, commented on UPA actions during the WW2.
"Both the Soviet government and the nationalists made mistakes. The Soviets admitted it and rehabilitated those people. I think the UPA army was a terrorist group. Well, if they killed 8,000 people only after the war, they should admit it rather than dismantle monuments,"
he said.A special commission has been set up to establish the cultural and historic value of Soviet Era monuments in the Lvov region prior to their possible removal.A deputy from the right-wing Svoboda Party, Vasul Pavluk, explained why the Soviets can't be their heroes.
"We must clean our land from the memories of that regime. The Soviets belong to museums together with kings and queens who once occupied us. Look, I am sorry but we have two Ukraines. Here in the west, the Soviets sent my grandparents to Siberia, I had nothing to eat those days. Should I sing praises to them now?"
Vasul Pavluk from Svoboda Party stated.Russia condemned the decision to pull down soviet-era monuments whereas Ukraine suggested holding a local referendum on the issue, the result of which may remove the WW2 memorials at best to museums.
You can share this story on social media: