Seoul shows off anti-North domestic missiles, gets more US protection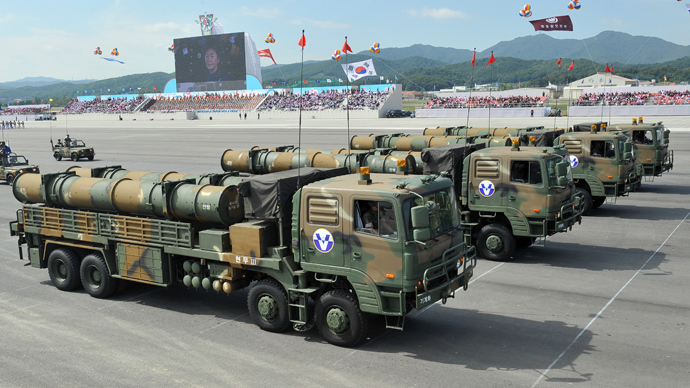 South Korea has paraded domestically-made long-range missiles meant to destroy North Korea's artillery and missile positions. It also signed a new pact with US on contingency plans to counter Pyongyang's nuclear capabilities.
In a military parade on Tuesday, South Korea's military demonstrated the ballistic Hyeonmu-2 and cruise Hyeonmu-3 missiles, which have ranges of 300km and more than 1,000km respectively. The parade was attended by President Park Geun-hye and US Defense Secretary Chuck Hagel, who is visiting the country to celebrate 60th anniversary of signing the South Korean-American mutual defense treaty.
The missiles were first unveiled in February following North Korea's third nuclear device test. South Korea is restricted in the range of missiles it can deploy under its agreements with the US. It reached a deal with Washington last year allowing it to have ballistic missiles with a range of up to 800km, compared to the previous limit of 300km. Now South Korean missiles can strike targets anywhere within its northern neighbor's territory.
"We must build a strong anti-North deterrence until the day the North drops its nuclear arms and makes the right choice for its people and for peace on the Korean peninsula," President Park said during the parade, which was the largest in the country in 10 years.
Seoul and Washington also signed a new joint strategy that outlines how they would be dealing with North Korea's nuclear weapons and other weapons of mass destruction. Neither side provided details of the strategy, which "establishes a strategic alliance framework for tailoring deterrence against key North Korean nuclear threat scenarios across armistice and wartime," as described in a joint communiqué. The pact was signed by Hagel and his South Korean counterpart Kim Kwan-jin.
The strategy allows for delivering pre-emptive strikes on targets in the North if it shows signs of an imminent nuclear or missile attack on the South. This goes in line with Seoul's current military policy regarding North's threat. The US and South Korea signed a similar pact covering a joint response to low-level provocations by North Korea, including possible shelling of the South's territory, naval incursions in disputed waters or violation of South Korean airspace.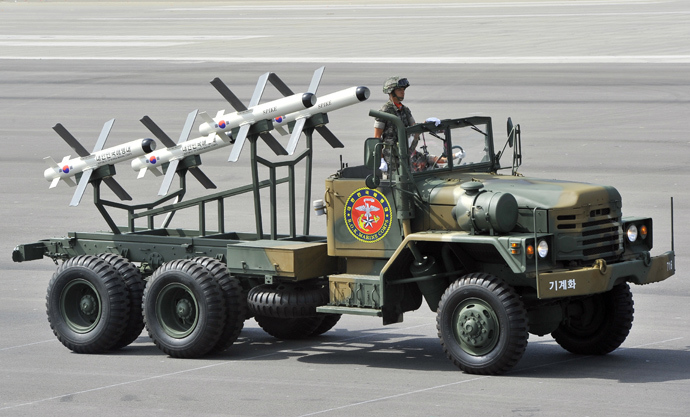 The two sides also agreed to review the deadline for transition of wartime command of South Korean troops from US to Korea's own generals. Seoul relinquished command over its troops to Washington during the Korean War of 1950-1953. It didn't reclaim it even in peacetime until 1994, and is still obliged to cede it to the Americans in case of war.
The next stage of transition of operational control is scheduled on December 2015, but South Korea is reluctant to observe it, citing security concerns. Seoul initially was preparing to take over back in April 2012, but asked to push back the date after the sinking of a South Korean warship in 2010.
Seoul and Pyongyang are still technically at war, with bellicose rhetoric dominating the relations between the two Koreas ever since conservative President Lee Myung-bak came to power in the South in 2008. North Korea's military is stronger in numbers, but lags behind the South in terms of conventional weapons, since most of the hardware Pyongyang has is outdated and likely poorly maintained.
North Korea is actively developing nuclear capabilities, with the latest test conducted in February. It says it needs nuclear weapons to deter its enemies, meaning the US and its allies. The program is internationally condemned and is pursuit in defiance of UN Security Council resolutions.
The country has also noticeable advances in rocketry, having successfully launched a satellite in December. While Pyongyang insists that it is wants a peaceful space program, the launch was widely considered a test of long-range ballistic missile technology with the ultimate goal of developing a nuclear-capable missile.
At the height of latest period of tension in the Korean Peninsula, the North claimed that it can attack the American mainland with nuclear weapons, but military experts mostly consider that assertion a bluff. It may take years for Pyongyang to miniaturize its nuclear devices and produce reliable means of delivery.
You can share this story on social media: