Six Iraqi ministers quit by order of radical cleric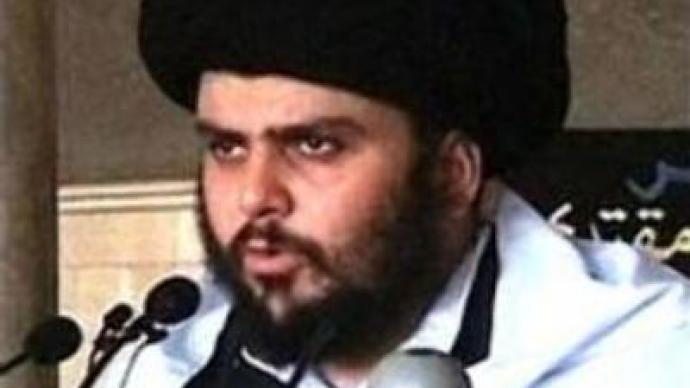 Six ministers loyal to the radical shi'ite cleric, Moqtada al-Sadr, have resigned their posts following his order earlier on Monday. The move is aimed at speeding-up the timetable for U.S troop withdrawal from the country.
This came after the country's Prime Minister Nouri al-Maliki refused to work out a timetable for the withdrawal of U.S. troops.
"The prime minister has to express the will of the Iraqi people. They went out in a demonstration in their millions asking for a timetable for withdrawal. We noticed the Prime Minister's response did not express the will of the people,"
Nassar Al-Rubaie, Head of al-Sadr's Political Bloc, announced.Al-Sadr's movement is mainly supported by Iraq's poor Shi'ite population. It holds a quarter of the parliamentary seats in the Prime minister's Shi'ite Alliance.The Prime Minister, Nouri al-Maliki, was supported by the Sadrists for office, which means the latest political changes could deal a blow to his government. Al-Sadr leads the Mehdi Army militia, which is considered a major security threat by the Pentagon. It is known to have been involved in numerous attacks against Sunni Arabs and also fought in uprisings against the American-led forces.
In August 2004, U.S. and Iraqi troops surrounded al-Sadr's home aiming to arrest the cleric and dismantle his movement. But he evaded capture and continued to voice his will to form a political party, and compete in the 2005 elections. The cleric later revoked his claim and did not take part in the political competition. He is thought to have backed the National Independent Cadres and Elites Party, closely linked to the Mahdi Army.Last week, tens of thousands of Iraqis rallied in the Shi'ite holy city of Najaf to protest against the presence of more than 140 thousand U.S.-led forces in Iraq. Al-Sadr did not appear at the demonstration. U.S. officials believe Sadr is currently hiding in Iran, while his supporters insist the cleric is still in Iraq.In the latest incident three Iraqi policemen have been killed by U.S. forces in a friendly fire incident during a raid against suspected al Qaeda militants.
You can share this story on social media: