Siren of the times: shady taxi ambulances cash in on heavy Moscow traffic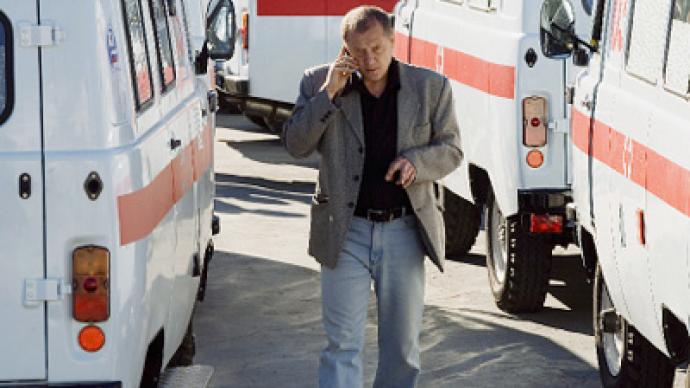 Moscow's notorious daily gridlock is the bane of millions of people's lives and is now inspiring some inventive, but ethically dubious, business strategies that get commuters from point A to point B.
Moscow's traffic is infamous, with only the government and emergency vehicles having a slight advantage to make it through the never-ending congestion. And now some so-called medical personnel – in the true spirit of capitalism – decided to cash in on the fact. "When I heard about this rumor, I wanted to check it out myself," says blogger and youth activist Konstantin Goloskov. "And it was scarily simple to prove."All it took Konstantin was to call a private "medical center" and ask for an ambulance taxi to pick him up at his apartment and drive him to the State Duma. No questions asked and no misunderstanding that Konstantin was heading there for a medical check-up. The cost of the speedy ride amounted to a whopping 5,000 rubles (approximately $180). Contrary to what may have been expected, no one inside the ambulance taxi seemed to mind the presence of a camera crew when RT decided to take a ride inside. What was more, the only remotely medical item on board the ambulance was a stretcher. But while some may think nothing of such a service, there are people whose lives and jobs are greatly affected by it. "I have never had a case like that in my experience," says Emergency Medical Transport employee Vladimir Filimonov. "Ambulances, they don't just stop if someone tries to flag one down and go somewhere. We'll stop if there is an accident, of course, or if someone needs medical assistance. But to give someone a lift? Never."For state emergency medical technicians, such an act is impossible on many levels, from ethical to technical. Every single ambulance they use is tracked with a navigation system, and doctors report to dispatchers with any change in status. From the moment they receive a callout, they are monitored.  "We track every route our ambulances take," says dispatcher Svetlana Govorova. "We can correct their route, or even send them to a different location altogether. All those movements are recorded. We know where they are, what kind of diagnosis they made on scene, and which hospital they took their patient to."These doctors appear deeply disconcerted at how such enterprises can undermine their reputation and discredit their professionalism. "These people, they are not doctors," Vladimir Filimonov says. "Any real health care professional has been trained to have values and morals. These so-called medics are nothing but businessmen."Meanwhile, as authorities are looking into the matter, fake medics continue taxiing around people who are willing to pay.
You can share this story on social media: