Russian military successfully test two missiles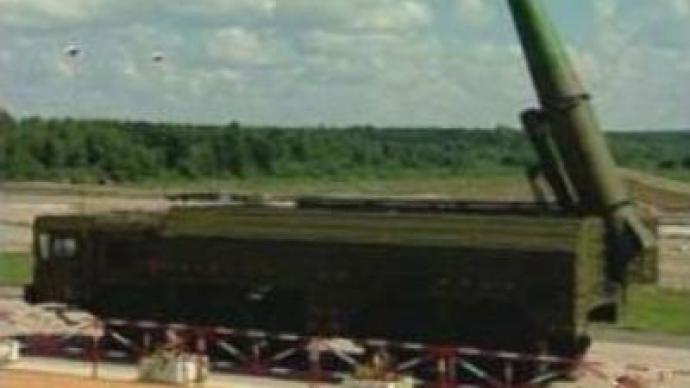 Russia has successfully test-fired two separate missiles. A new intercontinental ballistic missile was launched from the Plesetsk cosmodrome in the Archangelsk region. An "Iskander" tactical missile was launched in Southern Astrakhan region.
The new RS-24 multiple warhead rocket, launched from the Plesetsk cosmodrome, is the replacement for older models currently the backbone of Russia's nuclear missile forces. The military say the missile successfully hit targets at the Kura proving ground on the Kamchatka peninsula 5,500 KM away.Later in the day, an improved tactical cruise missile for the mobile Iskander launcher was fired at the Kapustin Yar proving ground in the South of Russia. The modernised missile system is capable of hitting air and ballistic missile systems.This test-launch was attended by the Russian Deputy Prime Minister Sergey Ivanov, who believes new weapons will help Russia counter potential threats.
"We see how our eastern and southern neighbours are equipped with short- and middle-range missiles. The Soviet-American agreement limiting this kind of weapons is apparently no longer effective under the new conditions, because a lot of new countries have emerged, particularly along our borders, which have got hold of this kind of weapons. Meanwhile, Russia, like the U.S., does not have the right to use this weaponry. This is a factor we have to take into account when developing our national military strategy,"
Mr Ivanov said. The missile tests come at a time of increased tensions between Russia and the United States over U.S. plans to set up missile shield in Poland and the Czech Republic.The Russian President Vladimir Putin says the shield would put the whole system of international and European relations at risk.
"Our position is well known. We believe that attempts to turn Europe into a powder keg and to deploy new kinds of weapons there are harmful and dangerous. It poses unnecessary risks for international and European relations,"
President Putin stated. However, analysts in the U.S. say Russia is trying to define its place in the world. Meanwhile, U.S. Secretary of State Condoleezza Rice says the U.S. is ready to discuss the arms control Treaty on Conventional Armed Forces in Europe with Russia. She has repeated U.S. assertions the proposed missile defence system in Eastern Europe poses no threat to Russia. The meeting on the Treaty is expected to take place in Vienna in the middle of June.
You can share this story on social media: