Russian FM visits Japanese Embassy and lays flowers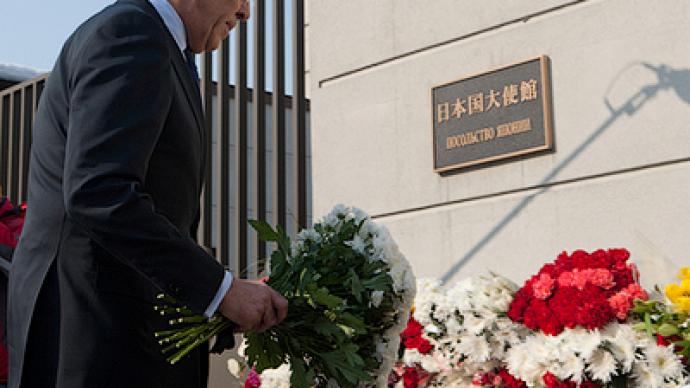 Russia's Foreign minister Sergey Lavrov visited the Japanese embassy in Moscow on Monday to express his condolences over the devastating consequences of Friday's earthquake and tsunami.
He signed the condolences book and suggested assistance to the Japanese people."Russian rescuers, together with rescue teams from other countries, are searching for those who may still be alive among the debris and assisting with recovery efforts," Lavrov said. "I very much hope that the joint efforts of the entire international community will be able to help the people of Japan and the Japanese government to mitigate the consequences of the catastrophe we have all witnessed and have been deeply touched by.""We express solidarity with our neighbors in Japan," the Russian Foreign Minister added.Russia has sent a number of its Emergency Ministry's personnel to Japan. The first plane with humanitarian aid has already landed, laden with 50 rescue workers, rescue equipment, blankets, water, food and portable generators.The rescue workers are helping to search for survivors, as hundreds are feared to remain buried alive under the rubble.A heavy transport helicopter, Mil Mi-26, has taken 25 more rescue workers to Japan. It is joining US aircraft, which are already delivering supplies to various base camps in the devastated areas of the country.Russia is also helping Japan in its energy sector, 30 per cent of which were dependent on the nuclear power plants that are currently in a state of distress.
You can share this story on social media: