Russian delegation gets royal reception in Luxembourg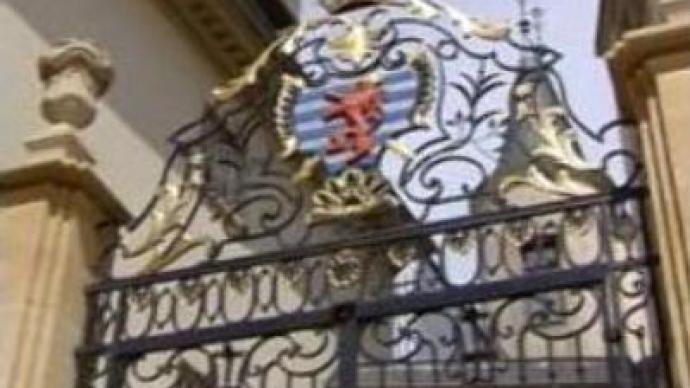 The Russian delegation has made a visit to Luxembourg on the last leg of its European tour, where it met the country's officials. Business partnerships, trade and economic co-operation have topped the agenda of talks.
President Putin was the first Russian leader ever to make an official visit to Luxembourg. He came at the invitation by the head of state of Luxembourg, Grand-Duke Henri. President Putin was accompanied by his wife Lyudmila. They were received by the Grand-Duke and his wife Maria-Teresa at the residence of Luxemburg's Royal family. During the trip, Vladimir Putin also met with Prime Minister Jean-Claude Juncker. Growing trade between Russia and the Grand Duchy became the highlight of the meeting. At the press-conference following the talks the two leaders also touched upon less optimistic issues including disputes over Kosovo province, Russian ban on Polish meat and U.S. defence bases in Eastern Europe. The two leaders praised the co-operation between their countries.
"Mutual trade for the last three years has grown almost three-and-a-half times. Being one of the most influential financial centres, Luxembourg takes second place in investing in the Russian economy. Last year, it was approximately $U.S. 23 BLN, mostly the repatriation of Russian capital. We are happy that our assets are showing a return and that it is also good for Luxembourg's economy. Energy is also one of the prospective spheres of co-operation between the countries. The evidence of this is an agreement signed between Russia's Gazprom and Luxembourg's Satec to build the power station in Germany. The investment in the project will be almost 400 MLN euros,"
President Putin stressed during a joint press-conference.
"Russia is a natural strategic partner for Europe, and we want to maintain our relationships at a very high level. Our strategic co-operation will concern both economic sphere and of course the supplies of energy sources. It is also connected to security in Europe. And we cannot talk about creating a security system in Europe without Russian Federation. And despite occasional differences in our opinions we have to be rational in addressing all the problems,"
Jean-Claude Juncker noted.Democracy and human rights in Russia were other issues touched upon by President Putin at the press-conference. Russia's President commented on the possible reasons behind criticism of Russia.
"We have been criticised often and are being criticised especially now for the human rights situation, in the pre-election period, when Russia is getting ready for the parliamentary and later – for the presidential elections. One of the reasons for this criticism is to support those forces within our country, which some of the western politicians consider pro-western. And the second purpose is to make Russia more pliant in the issues that have no connection with democracy, or with human rights – disarmament, for example, missile defence systems, Kosovo and so on. Let's just imagine Russia as a full-force member of international communication rather than a weak country, whose opinion on Kosovo, for example, isn't of much interest. But nowadays there are a lot less means and methods to influence Russia, as we have fully restored our military and economic potential. And I think the best weapon is respect for mutual interests, as various countries have similar problems,"
Vladimir Putin said.Luxembourg is a strong pro-European player. Vladimir Putin and Jean-Claude Juncker insisted that Russia-EU partnership is going strong.Still, Russia and the West do not always see eye-to-eye. The Russian President once again hit out at the U.S. plans for an anti-missile shield in Europe.
"I am not going to repeat all the reasons. We think that U.S. arguments are farfetched including talk of possible missile attacks from Iran and North Korea. One of the arguments that we hear from them is that it is being done to protect the Europeans. But we ask them – have the Europeans actually asked you for that? We get no answer. Giving the modern tendencies in the international relations, if the Americans wish, they will get this request from the Europeans. At least they should have got it first because otherwise it looks quite embarrassing,"
Mr Putin pointed out.
You can share this story on social media: