Russian & Japanese FMs discuss co-operation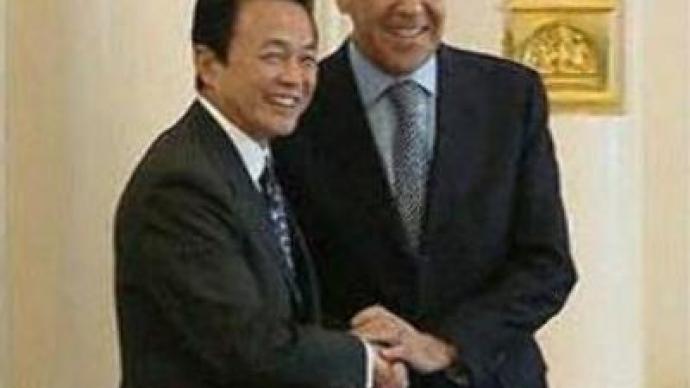 Russian Foreign Minister Sergey Lavrov and his Japanese counterpart are calling for further development in strategic relations between the two countries. They met in Moscow to discuss economic, territorial and international issues.
Japanese Foreign Minister Taro Aso also held talks with the Head of Russia's National Security Council, Igor Ivanov. And later he is attending the opening of the new Japanese Embassy in Moscow.Both Russian Foreign Minister and his Japanese counterpart were modest in their rhetoric, bringing the main topics of discussion behind closed doors. But even though not much was said to the press, both seemed quite willing to co-operate.
"In recent months our relationships have received a strong impetus following important agreements reached by leaders of both countries and after Russian prime-minister's recent visit to Japan,"
said Sergey Lavrov.
"An important factor in the development of Japanese-Russian relations is the rapid development of the Russian economy. Russia's membership in G8, its high economic development rate, and the participation in the Brazil, Russia, India and China group contribute to the proper development of Russian-Japanese relations,"
Tarp Aso noted. Since the end of the Second World War, the Russian-Japanese relationship has been strained to say the least. And this is the stumbling block – the islands of Iturup, Habomai, Shikotan and Kunashir, better known as the Kuril Islands.Soviet troops seized them at the dusk of the Second World War and proclaimed them Soviet territory. Ever since, Tokyo has been demanding their return. This dispute between the two countries has prevented them from signing a permanent peace treaty.A joint declaration ratified by Tokyo and Moscow in 1956 promised Japan two of the islands. But Russia insists a peace treaty should be signed first.
"Russia will confirm readiness for continuing the dialogue on this question and a search for a mutually acceptable solution,"
stressed Mikhail Kamynin, Russian Foreign Ministry Spokesman. But despite the lack of negotiated solution, Russian-Japanese economic relations are now experiencing a steady rise.In the last several years, Japan has grown into eighth largest investor into Russia, in particular giving financial support to the residents of the four Southern Kuril Islands.Energy co-operation between the two states has also become stronger. Japan is investing about $US 10 BLN into Russia's Sakhalin oil and gas project. With plans to join efforts in hi-tech, transport, communications and space also discussed.Those projects are expected to be on the table when Russian President Vladimir Putin meets Japanese Prime Minister Shinzo Abe in June.It is not clear whether or not the two leaders will discuss the dispute over the Kuril Islands or even a permanent peace treaty.
You can share this story on social media: