Russia starts espionage probe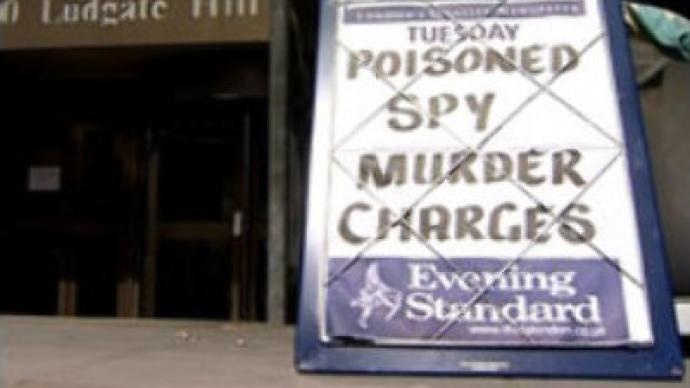 Russia's Federal Security Service has launched a criminal investigation following statements from Andrey Lugovoy, who is wanted in the UK in connection with the murder of former Russian security officer Aleksandr Litvinenko, poisoned in London last Novemb
The mystery behind the murder of Aleksandr Litvinenko is expanding once again.
This time the FSB, Russia's Federal Security Service, has said a criminal case into espionage activity has been launched after an examination of a statement, made recently by Russian businessman Andrey Lugovoy.
At the end of May Mr Lugovoy said British intelligence tried to recruit him in order to gather compromising information on the Russian President and members of his family.
Details of the FSB's criminal case haven't been released but at that same press-conference Lugovoy also pointed the finger at British intelligence, exiled tycoon Boris Berezosky, and Mr Litvinenko himself.
Mr Lugovoy made the statement right after the British Crown Prosecution service said they had received enough evidence to charge him with the murder of Aleksandr Litvinenko.
The man, who has been at Lugovoy's side since both were named key suspects in the Litvinenko's murder at the end of last year, has not been accused by Britain. But in Germany authorities are trying to make a case against Dimitry Kovtun.
His lawyer, Wolfgang Vehlow, told Russia Today so far he has no access to the evidence and expects prosecutors don't have enough to make an accusation. "I represent Dimitry Kovtun in Germany, specifically in Hamburg. A probe was launched there on the transportation of a radioactive substance. This probe might later be heard in court. Although I have requested the materials on the case, I haven't received any documents so far," Wolfgang Vehlow said.
Dmitry Kovtun will most probably stay in Russia. "I don't feel safe at all. After all the events I have absolutely no confidence in British justice and don't think it possible to leave Russia," he said and then continued: "The charges against Lugovoy are groundless, which shows that the investigation is biased. It means you can expect anything from them."
As far as the latest development is concerned, Kovtun says it comes as no surprise.
"Andrey Lugovoy's statement at the press conference has to be regarded as an application to the Prosecutor General's office. He personally said that at the end of it. It's quite natural that the FSB opened a case. We will continue to cooperate with the investigators as we've done from the very beginning," Mr Kovtun said.
So far, all three cases in three countries remain unsolved.
You can share this story on social media: