Rise of xenophobia in Russia causes concerns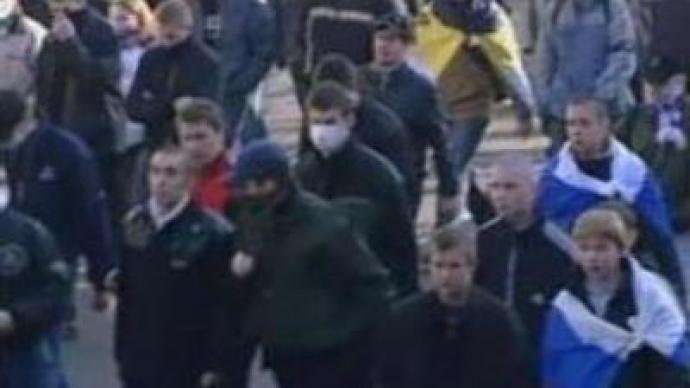 The district office of Moscow's Public Prosecutor is investigating a surge of racially-motivated crimes. Given Russia is home to over 100 different ethnic groups, the issue of xenophobia is especially acute.
Artur Ryno, an 18-year-old student, confessed to killing 37 people since August 2006 – what he called cleaning the city.However, Aleksandr Belkov, Director of the Movement against Illegal Immigration, says he doesn't believe 18-year-old Ryno committed the 37 murders.
"It's likely that the authorities are forcing him to admit to those murders,"
he says. The case of Ryno is not unique. In 2006 a Senegalese student was killed with a shotgun decorated with a swastika. In October 2004 a Vietnamese student was stabbed to death by a group 18 skinheads. Also that year a nine-year-old Tajik girl was killed. And the list of such crimes could be continued.
"One of the reasons why such clashes on inter-ethnical ground actually happen is the lack of educational system. Xenophobia should be eliminated in a person in childhood. During the Soviet Union such programme did exist but with the immense flow of migration after the collapse of the Soviet Union the situation has considerably worsened,"
believes Vladimir Novitsky from the International Society for Human Rights. Amnesty International accuses authorities of turning a blind eye. They assess that racism is out of control in the Russian Federation, adding "police and prosecutors routinely classify murders and serious assaults by skinhead extremists as lesser crimes of "hooliganism". Meanwhile, the government is making what some call a narrow attempt to improve a wide issue. Billboards have been posted around the city featuring famous ethnic immigrants like Armen Dzigarkharnyan – a renowned Armenian actor and director. His words to Moscow read, "I would really like for us to all need each other". Some experts, though, doubt that such a campaign will help to improve the situation. Evgeny Kuznetsov, an independent PR expert believes it is too late.
"I think if these advertisements had appeared five or ten years ago it is possible they could have formulated a lighter development of the situation but nevertheless it would have grown into what it is today,"
he says.Making it seem like there is very little hope the situation will improve unless the government gets more involved and hate crimes are punished – it might not mend the hearts that hate but it might help stop the violence.
You can share this story on social media: