Rescuers stretched by amateur fishermen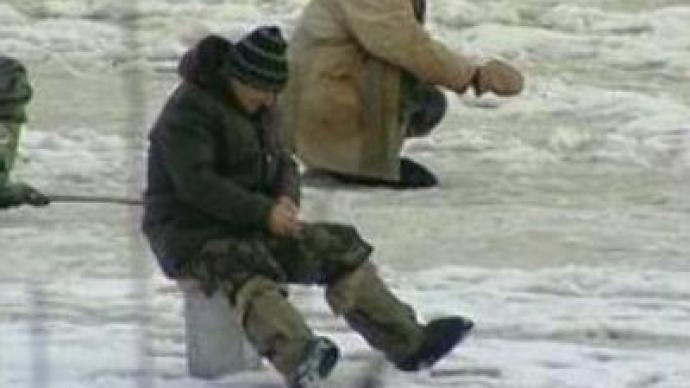 More than 60 fishermen have been rescued from an ice floe in the Yaroslavl region of Central Russia. Surprisingly 14 others refused help and remain on the drifting ice with their snowmobiles.
Potentially unsafe ice, drifting ice floes, and the vast waters of the Rybinsk water reservoir cant stop enthusiastic amateur fishermen from risking their lives. This weekend 82 people and their equipment were trapped when the floe they were fishing at started drifting away.
"When the first floe started drifting we thought it was exciting. We didn't think of leaving our fishing places. But then we realised it was 500 metres to shore and we could have been forced to swim over. That's when we felt nervous,"
says Eduard, one of the fishermen.It was several hours before the rescue teams arrived to take them ashore. The ice underneath them already started breaking into smaller pieces. Emergency services used boats and hovercraft to rescue the people.Surprisingly the help wasn't met with gratitude by everyone. Some of the fishermen refused to leave without their snowmobiles. They took a decision to stay with their belongings until the floe reached the shore. 14 men stayed in the waters of Rybinsk reservoir overnight causing concern for the rescuers.Ice fishing is a very popular winter pastime in Russia and attracts thousands of people. Most of those rescued said they won't give up their hobby and will be back fishing despite the unfortunate incident.The vigil for the rescuers continues with 14 stubborn fishermen stuck with their snowmobiles in the middle of the reservoir.And in a separate incident three fishermen have died after falling under the ice in the Southern Russian Volgograd region.
You can share this story on social media: