Pupils sorry to bid farewell to Russian school in Tbilisi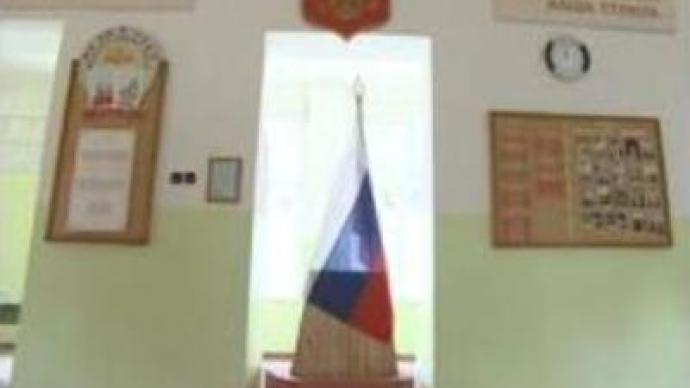 The special secondary school No 9 in Georgia's capital Tbilisi, is set to close for good after 12 years as Russia has completed its pullout from one of three military bases in the country.
Tbilisi's school No 9 taught the children of staff based at the Russian Military Headquarters, and some locals. It will mark its final day with a small official ceremony and a New Year concert. The Russian flag will be lowered to show they are leaving. The children say they are sad to go.
"We are upset that we cannot finish our academic year,"
says Anna Ginevskaya, a pupil.
"It's a pity, I love my class, I love my friends. We are sorry we did not even know it cold happen so soon."
And while the children are unsure of their future, the staff of the school hope it might continue its work in a different way.
"I would love to be optimistic and have some hope. The school No 9 won't exist as such, but we would love something similar,"
says the school's Director Orest Peschannenko.
"We have plans and I hope that people will help us to make this wish come true."
After the official agreement was reached by Russia and Georgia last year, Russian military bases on Georgian territory will be gone by the end of the year. The large HQ in Tbilisi will be empty in a matter of weeks. The withdrawal is going to plan according to officials.
"All the formalities are kept in order and it is going as planned according to the Georgian law,"
says Aleko Kiknadze, Head of the Georgian Monitoring commission,
"and no problems have been detected."
Tbilisi's Vaziani military base has already loaded its equipment on to a train ready to leave for Russia.
"Today the last train from Tbilisi loaded with Russian military equipment, communication facilities and other property was sent to Armenia. We are continuing to carry out our orders,"
says Oleg Andreichenko, Assistant Commander.Staff will leave by December 25, with 15 officers staying to organise the closure of two other bases in the country.
You can share this story on social media: