30 protesters detained at Russian opposition rally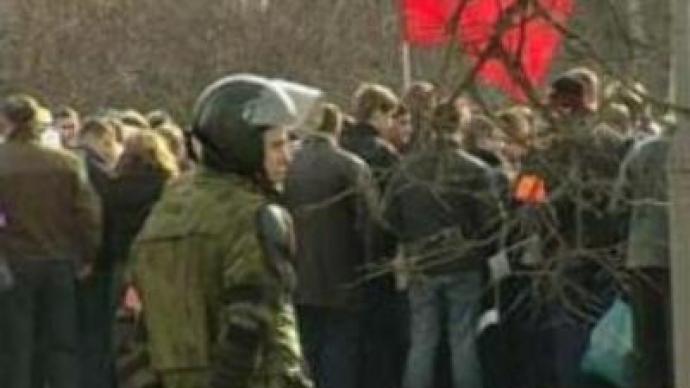 In the central Russian city of Nizhny Novgorod several opposition organizations attempted to hold a so-called "March of disagreement" on Saturday despite a ban on the proposed route imposed by the authorities.
Several dozen protesters gathered about midday on Gorky Square in central Nizhny Novgorod. As they started shouting anti-government slogans a special anti-riot police task force encircled them, preventing them from entering the city's central street. Police also warned those on Gorky Square that they must leave the square or face the possibility of criminal charges.Now the police cordon around Gorky Square is gradually being lifted and the rally is subsiding.Two similar marches have been held in Russia in recent months – one in Moscow and another in Saint Petersburg.The first "march of disagreement" took place in Moscow on December 16 last year. City authorities had not sanctioned the march organised by an opposition movement called the Other Russia. They had only given permission for a protest in one of the city's squares.By various accounts, the rally gathered between 1,500 and 5,000 people, demanding the removal of Russia's current government.A few prominent figures participated including Russia's former Prime Minister Mikhail Kasyanov and famous chess player Garri Kasparov.More than 8,000 police officers were deployed to maintain law and order. Several dozen people were detained. A much larger opposition protest took place in Saint Petersburg on March 3.Official sources say no more than 2,000 people took part, but organisers claim the march gathered up to 15,000 people.Taking place a year before the presidential elections scheduled for March 2 next year, the protest also came days ahead of local elections to the Saint Petersburg Legislative Assembly.The governor of Saint Petersburg called the rally a "provocation" dubbing the protesters "guest stars from Moscow." The police dispersed the rally, detaining 113 people.After the march in Nizhny Novgorod, Russia's fourth largest city, the Other Russia will be targeting Moscow again, with a protest scheduled for next month.
You can share this story on social media: