Polish Prime Minister: U.S. defence bases – provision against Russian control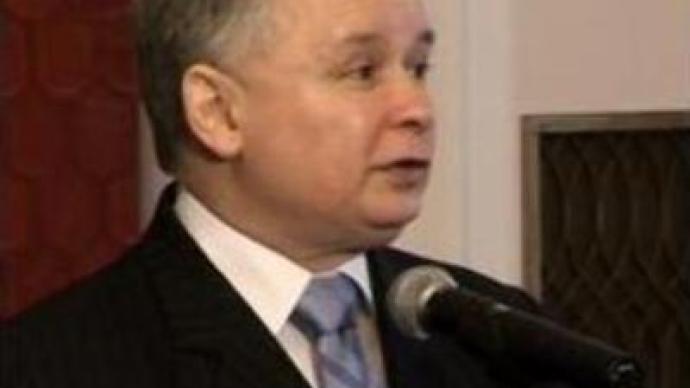 The Polish Prime Minister, Jaroslaw Kaczynski, has said the deployment of U.S. defence bases on the country's territory would guarantee that Poland never went back under Russia's control.
Mr Kaczynski told state radio that Russian opposition to the U.S. missile defence installations 'is all about Russia's hopes to bring Poland back under its' sphere of influence' like during the Soviet era.These comments came a day after the Polish and Czech prime ministers announced they are likely to allow U.S. defence systems to be set up on their territories.
"We are both (Poland and the Czech Republic) in a phase of preparing a reply to the American memo. We have agreed that our response to the offer will most likely be positive, and then we will start negotiations. We are aiming to create a communications channel to discuss our offers,"
Czech Prime Minister Mirek Topolanek commented.Mr Kaczynski stressed that the U.S. installations will not target Russia.
"The condition of the Polish – Russian relations is well-known. So obtaining approval from Russia (on the US missile system) will be difficult. But we will try to convince the Russians of the obvious fact known to them that this installation is not aimed against them,"
said the Polish Prime Minister.Meantime, according to a public opinion poll, the Polish people remain sceptical about the U.S. programme.The survey showed 55% of Poles oppose hosting an American missile defence, while 28% are in favour of it.
Michal Wenzel, an analyst from the public research centre, said support for the U.S. proposal is falling.
"We asked about this missile-defence shield for the third time since the project was tentatively raised in 2005, and support for it has steeply declined. In September 2005, about half of the population supported the installation of the U.S. missile-defence shield. Now, it has fallen to 35%. I think, it is mostly because of what is going on in Iraq. People do not like the consequences of the previous U.S. initiative in defence policy in Iraq and Afghanistan,"
remarked Mr Wenzel.Meanwhile, Russia's Strategic Missile Forces Commander, General Nikolay Solovtsov, stated that if the U.S. systems were installed, Russia would resume the production of mid-range weapons.Moreover, according to Mr Solovtsov, Russian missiles could target Poland and the Czech Republic if they agree to deploy the U.S. missile defence bases on their territories.
"If Poland and the Czech Republic eventually make such a decision, we could target these new facilities as well. We can also resume production of mid-range missiles very easily if such a decision is made. It will take a very short period of time and it's not hard for us to start producing these systems,"
Nikolay Solovtsov expanded. Mr Solovtsov also said that Russia was considering withdrawing from the Russian-American Intermediate-Range Nuclear Forces Treaty.The treaty was signed in 1987 by Soviet Communist Party Secretary General Mikhail Gorbachev and U.S. President Ronald Reagan. Both sides agreed to dismantle all strategic missiles capable of reaching targets at distances from 500 to 5,500 kilometres. Their research and production have been discontinued. As for the Pentagon's plan to build a U.S. anti-missile base in Eastern Europe, it came up the middle of 2005. The Czech Republic, Hungary and Poland were initially named as candidates for the site. The USA asked Poland and the Czech Republic to build anti-missile facilities as part of its global defence system. The Pentagon claims that these systems will be used to protect Europe and the U.S. against Iranian and North Korean intercontinental range missiles. The Head of the Moscow-based Centre of Defence Information, Ivan Safranchuk, said Russia has its own reasons for not wanting to have the U.S. anti-missile systems at its borders.
"There is technical capability to use these U.S. antimissile bases against Russia in the future. The intentions may change. And it is very difficult even to count how many times intentions were changing during last 15 years,"
he said. In Western Europe, there seem to be different opinions on the U.S. plans. Germany's Foreign Minister Frank-Walter Steinmeier has criticised the United States for failing to give details of its intentions to Russia and neighbouring countries beforehand.
"Because the sites for the stationing are quite near Russia, one should have talked about it with Russia beforehand. In view of the strategic nature of this sort of project, I urge one to act with caution and to engage in an intensive dialogue with all the partners directly and indirectly involved,"
Mr Steinmeier said.
You can share this story on social media: