Poland wants removal of Soviet monuments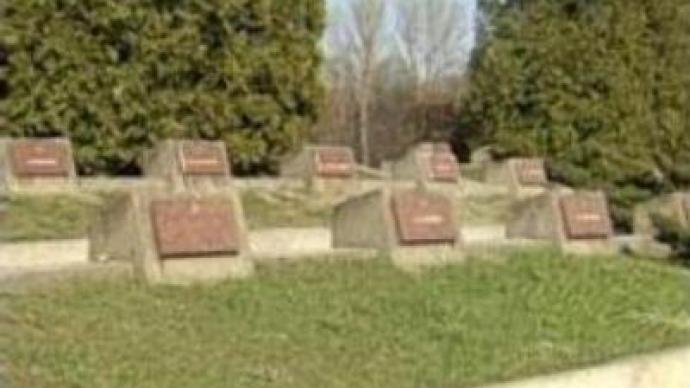 The Polish Minister of Culture, Kazimierz Michal Ujazdowski, is to submit a draft proposal to parliament on Monday, calling for the removal of monuments described as 'symbols of foreign domination over Poland'.
It was late in April when Mr Ujazdowski announced plans to free Poland from what he described as the symbols of communist dictatorship. He said it is a step to tackle the issue of the sites of national memory.If passed, the bill would allow local authorities to effectively remove monuments they believe to be of foreign domination over Poland. As a result, the fallen Soviet soldiers monuments could be affected. Poland has more than 500 of them. Mr Ujazdowski claims that the draft is not aimed at Russia or graves of the Red Army soldiers that liberated Poland from the Nazis.At a ceremony to commemorate Soviet diplomats who died in WWII Russian Foreign Minister Sergey Lavrov has said Moscow is angry at attempts to re-write history.
"The memory of the victory does not fade away, it is sacred for us, and we cannot put up with blasphemous attempts to abuse history or re-write it. These attempts are becoming a part and a tool of foreign policy of some states. Regrettably, such organisations as NATO and the EU are ignoring these attempts,"
he stated. Meanwhile, Russia is drawing up plans to protect the Soviet war graves and memorials abroad. Thus, President Vladimir Putin is to sign a decree in May. Under it, several foreign-based centres charged with the task will be set up in 14 countries including Poland, Hungary, China as well as the Baltic States. According to estimates, the federal budget will spend almost $US 1 MLN on the operation. Although Russian officials say the decree is not a reaction to the removal of the Bronze Soldier monument in the Estonian capital Tallinn, but its elaboration was sped up.The relocation of the monument to the Soviet soldiers who died liberating Estonia caused large-scale protest both in Estonia and Russia. Thousands of people took to the streets of Tallinn to show their dissatisfaction with the actions of Estonian authorities. In Moscow activists of patriotic movements picketed the Estonian Embassy, paralysing its work.Local experts in Poland fear the initiative of the Minister of Culture may result in a build-up of tensions with Russia which are already high over the background of the long-lasting meet row.
You can share this story on social media: