Passenger jet crashes in Indonesia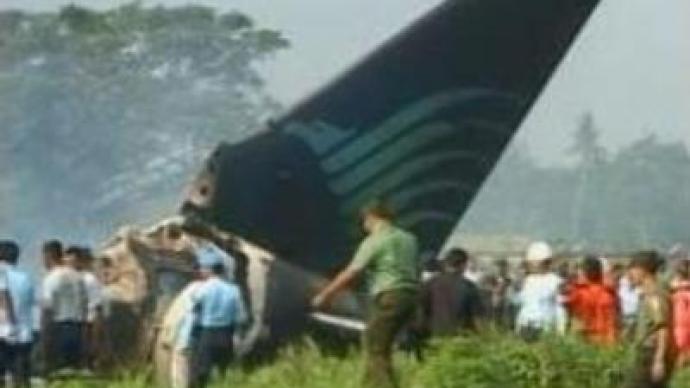 A Garuda Airlines passenger jet arriving from Jakarta burst in to flames on landing at Yogyakarta airport in Indonesia. More than 20 people are reported to have been killed in the crash.
One official said the death toll may be even higher – up to 49 people. There were over 130 passengers on board when it came off the runway at Yogyakarta airport, and many were forced to jump for their lives. According to witnesses, the Garuda Airlines plane overshot the runway before the fire broke out. Local news agencies report the incident happened around 7 a.m. local time, trapping passengers inside, but a number of these managed to escape. The plane itself was gutted – after it took firefighters 2 hours to stop the flames. As local hospitals are now treating the injured the number of survivors is still unclear. Up to 10 Australian journalists and diplomatic staff were among this number and not all have been accounted for. Australia's Prime Minister, John Howard says there has been a significant loss of life and has warned Australia to brace itself for bad news. His citizens were traveling to Yogyakarta in connection with this week's visit to Indonesia by the Australian foreign minister, Alexander Downer who himself was not among the passengers. Garuda Airlines is Indonesia's largest carrier and counts itself among the world's 30 biggest airlines. The plane in question is one of a number of Boeing 737-400's in the airlines fleet. With one of the world's worst transport safety records, this is Indonesia's second plane crash this year. Thus in January an Adam Air plane disappeared from radar screens killing all 102 on board. The Indonesian government recently set up special commissions to address these pressing safety concerns.
You can share this story on social media: