Opposition rally in Kyrgyz capital continues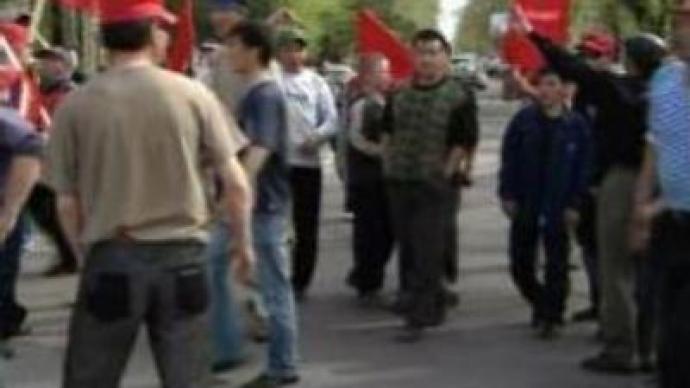 It is a third day of protests calling for the resignation of Kyrgyz President Kurmanbek Bakiyev. While the official protest of the opposition is expected later, about 500 people have already taken part in a military parade in Bishkek.
Many of the protesters did begin to see the military parade as a provocation by authorities. But the Second Deputy Minister of Internal Affairs said that it is not so.
"There were no provocations here. They have been protesting for three days and we did not touch them. These are the people who come for demonstrations every year here, we know them very well. We will re-enforce our patrol units. Last night there were a lot of drunks. 217 people were detained. If protesters start violating the law, we will use all necessary force,"
said Temirkan Subanov, Deputy Interior Minister.Some of the protesters are allegedly preparing for a march. There are rumours that they will be heading to a state-run television station which they say is completely controlled by the Government.In 2005 the country went through what is called the 'Tulip Revolution' which saw President Akayev ousted and Kurmanbek Bakiyev came to power.Now protestors – supporters of the 'United Front' led by former Premier Felix Kulov – are pushing for early presidential elections next year. President Kurmanbek Bakiyev said he sees the move by his former ally as an attempt to get into office.For his part, Felix Kulov denied any speculations the protests are being staged.
«'The United Front' is not a militarised organisation. When people come to the square we do not select them. According to our current data, up to 300 people show up all the time, trying to create a provocation when someone is speaking. Those people have been sent deliberately in an attempt to discredit us. They make certain statements, some people are not always adequate in their ordinary life and they are also attracted by large crowds,»
Felix Kulov commented.Felix Kulov claims to have a 90% support of the population. However, the low turnout during the three days of protests shows he enjoys far lesser popularity among the people.It remains to be seen whether the opposition leader will manage to gather more supporters for the weekend. Although the President has met some demands – by sending a bill on government reform to Parliament – the opposition demands that President Bakiyev should step down. The bill will be reviewed on Monday.
You can share this story on social media: