Ukraine crisis could affect global presence of nuclear arms – UN
Published time: 25 Mar, 2014 04:03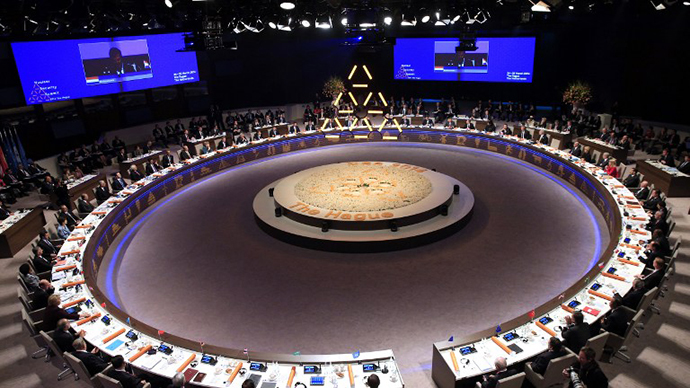 Ukraine's threats to once again become a nuclear weapons nation may have potential ramifications on the global presence of atomic arms, UN Secretary General Ban Ki-moon warned as world leaders gathered for the Nuclear Security Summit in the Hague.
Nuclear terrorism is officially the main topic at the two-day summit, but recent calls by some politicians in Ukraine to exit the nuclear non-proliferation treaty (NPT) are overshadowing the main topic at the talks in the Netherlands.
Earlier this month, a draft bill was introduced in Ukraine's parliament calling for withdrawal from the NPT. Introduced by the Batkivshchina (Fatherland) Party, led by Arseny Yatsenyuk, and the UDAR party led by Vitaly Klitschko, the bill seeks to change Ukraine's non-nuclear status established by the 1994 Budapest Memorandum, where Kiev agreed to become a nuclear-free state, giving up its Soviet-era nuclear arsenal. The agreement in exchange offered guarantees of Ukraine's sovereignty and integrity.
The acting Minister of Foreign Affairs of Ukraine Andrey Deshchytsya last week said the Ukrainian government supports the agreement on non-nuclear status of Ukraine and intends to comply with the relevant international agreements.
Yet Ban's comments at the opening of the nuclear security summit hint that Ukraine's internal turmoil and secession of Crimea could inspire not only Ukraine but other countries as well to pursue nuclear weapons capabilities.
"The credibility of the assurances given to Ukraine in the Budapest Memorandum of 1994 has been seriously undermined by recent events," he told the summit in The Hague, Reuters reported.
Opening ceremony with Ban Ki-Moon and Geun-hye. More pictures: http://t.co/8FmoM2dybbpic.twitter.com/rDPHcymbKc

— NSS2014 (@NSS2014) March 24, 2014
"The implications are profound, both for regional security and the integrity of the nuclear non-proliferation regime," Ban said, adding that "this should not serve as an excuse to pursue nuclear weapons, which will only increase insecurity and isolation."
Last week, both Russia and the West engaged in saber-rattling, with each accusing the other of violating the pledge to respect Ukraine's sovereignty under the 1994 agreement. Moscow accused Western states of having "indulged a coup d'etat" which ousted President Viktor Yanukovich in February. Meanwhile, the US and EU accused Russia of an "act of aggression in Crimea," violating the Budapest Memorandum that promised to respect Ukraine's existing borders.
In his speech on Monday, Ban called on all nations to honor security guarantees, saying, "Clearly the time has come to strengthen the rule of law in both disarmament and non-proliferation. Commitments to undertake disarmament negotiations in good faith must be honored. So, too, must security assurances provided to non-nuclear-weapon states by nuclear-weapon states." He called on delegates to "address the legitimate interest of non-nuclear states in receiving unequivocal and legally-binding security assurances from nuclear-weapon states."
"We must ensure that nuclear weapons are seen by states as a liability, not an asset."
Meanwhile, Russian Foreign Minister Sergey Lavrov said that Moscow is concerned about the accumulation of weapons-grade fissile materials in non-nuclear member states and urged the United States to play a more active role in solving this issue.
"Over the past 12 years, 790 kilos of fresh and 1,289 kilos of irradiated highly-enriched uranium have been transported from 14 countries: completely from nine countries and partially from five countries," he said, Itar-Tass reported.
Russia "is concerned about the unjustified accumulation of weapons-grade fissile materials in some countries that possess no nuclear weapons. They are in no hurry to get rid of them even though the abovementioned programme provides necessary possibilities for that," Lavrov said.
"We hope that the US could play a more active role here," he added.
Lavrov also reiterated Moscow's commitment to the combat nuclear terrorist threat, stressing that Moscow is continuing to abide by obligations in the field of nuclear security.
"Nuclear terrorism remains one of the serious threats. This is why we attach special significance to improving the security of information on the protection of nuclear materials and relevant facilities. It is necessary to improve the protection of automatic control systems that affect security at nuclear energy facilities," Lavrov said.
On the sidelines of the gathering, Lavrov met with US Secretary of State John Kerry and yet again discussed the Ukraine situation, which has caused quite a chill in relations between the two powers, with the introduction of anti-Russian sanctions and suspension of Russia's membership in the G8.
The Nuclear Security Summit is scheduled to conclude Tuesday with a press conference held by Dutch Prime Minister Mark Rutte and US President Barack Obama.