No progress in the Middle East peace process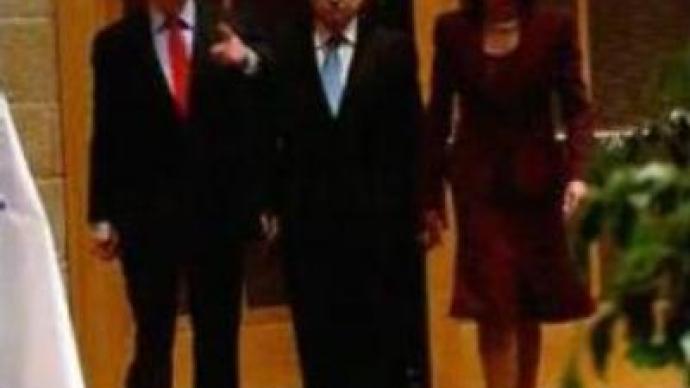 U.S. Secretary of State Condoleezza Rice has met with the head of the Palestinian Authority, Mahmoud Abbas, and Israeli Prime Minister Ehud Olmert in Jerusalem. The meeting aimed at restarting the Israeli-Palestinian peace process ended without a br
The major sticking point remains Hamas's refusal to recognise Israel – and the latest plans for a new unity government headed by Hamas's Ismail Haniyeh are not easing the problems.
"I don't think it was fruitful. I think it was less than we expected. At least we would have expected the Americans to assert enough pressure on the Israelis to start a process of bilateral engagement under the supervision of the international community in Geneva and the Quartet in particular. I do believe that the ball is in the court of the American administration,"
said Palestinian security adviser Jibril Rajoub.
The talks were overshadowed by the formation, during talks in Mecca, of a new Palestinian unity government headed by Hamas's Ismail Haniyeh. His credentials as a moderate amongst his group's more radical leaders have done little to placate Israel's concerns.Hamas claims the U.S.'s involvement in the negotiations is unhelpful.
"The American position is still negative and opposing forming the national unity government despite the national agreement signed in Holy Mecca. The American administration is still dealing with the old way of thinking based on boycott and isolation, which has been proved a failure,"
stated Palestinian Prime Minister Ismail Haniyeh.However, Condoleezza Rice confirmed Abbas and Olmert's intention to press ahead with the roadmap for peace in the region.
"The president and the prime minister agreed that they would meet together again soon, they reiterated their desire for American participation and leadership in facilitating efforts to overcome obstacles, rally regional and international support and move forward toward peace,"
she said.With the Quartet of Middle East peace negotiators is scheduled to meet on Wednesday to discuss the outcome of the summit, the international community doesn't seem ready to give up on the peace process just yet.
The results of the latest meeting have proved that whilst Hamas has control of the Palestinian Authority, the roadmap is facing an uphill struggle.
You can share this story on social media: