New blast in Iraq claims 130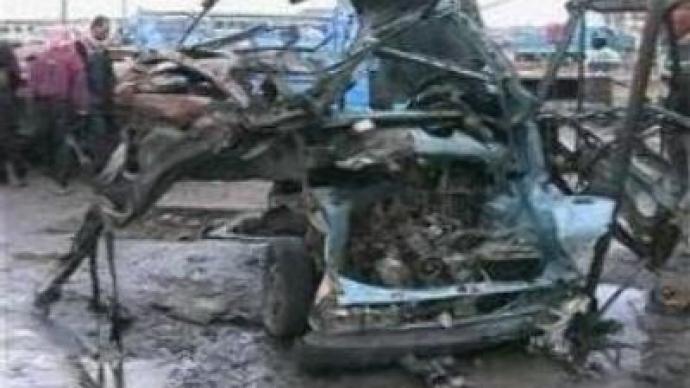 At least 130 people have been killed and hundreds more injured in a massive explosion at a busy outdoor market in Baghdad. Officials say the truck used in the attack had been packed with a ton of explosives.
It comes just a day after a US intelligence report said elements of the conflict in Iraq were much more complicated than civil war.The market blast was detonated by a suicide truck bomber.Markets have become just one of many commercial targets being struck with increasing regularity holding appeal for insurgents wishing to maximize casualties.In Kirkuk it's believed at least 6 bombs went off over a 2 hour period-forcing many to take shelter indoors for fear of repercussions.A US intelligence report released on Friday says progress needs to be made within the next year-and-a-half in order to stop the conflict escalating.But an Al-Qaeda linked militant group warned in an internet recording on Saturday of their intention to widen attacks across Iraq.A top Iraqi Shi'ite cleric, Grand Ayatollah Ali Al-Sistani, in his first public statement for months, called for an end to the sectarian violence.President Bush has said U.S. military commitment in the country is not open-ended. But he still intends to send an extra 21,500 troops to Iraq, and is due to present his new budget next week. He says one of his top priorities is to win the war against extremists. To this end he hopes to receive an extra $100 billion for U.S. operations in both Iraq and Afghanistan. Added to the figure already approved for these conflicts it would become the highest amount allocated to the wars so far.It's being viewed as another attempt to stop the situation in Iraq being referred to as total civil war, as estimates put civilian casualties since the U.S.-led invasion in 2003, between 55,000 and 62,000 people. After losing control of both houses of Congress Bush admitted he'd made mistakes in Iraq and for those Democrats who have already announced their intention to run for President in 2008, it's a topic they say will remain top of their agenda.
You can share this story on social media: