'Nashi's' Santas throng Moscow centre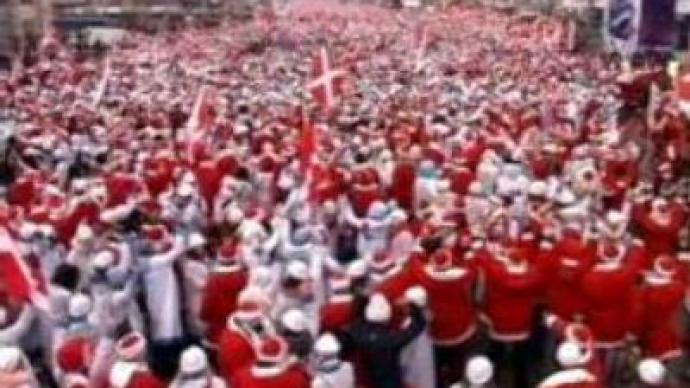 Activists from the 'Nashi' youth movement have gathered in the Russian capital to mark the victory of the Battle of Moscow during the Great Patriotic War. 'Nashi', or 'Our People', is a large political organisation which supports the president's policies.
Several thousand Grandfather Frosts – the Russian alias for Santa Claus – throng one of Moscow's squares. Youngsters from more than 50 towns across Russia have come here to mark the 65th anniversary of the Battle of Moscow and give the veterans presents. The idea is to make up for the 1941 New Year festivities they missed.The participants belong to the youth movement 'Nashi'. Praised for increasing the young people's involvement in politics, it's also criticized for too close ties with the Kremlin and pushing their stated anti-fascist rhetoric too far. But 'Nashi's' leader says the rally is only about remembering the country's history.
"We think that young people are losing historic memories,"
says Vasily Yakemenko, 'Nashi's' leader.
"This is inevitable. I'm afraid if we don't tell them of what happened here 65 years ago – and not just tell, but get them involved – in 10-20 years' time there will be people in fascist uniforms in the streets of our cities."
The action been planned as meticulously as a military operation. Before setting off to meet the veterans, the activists checked the map of the city. Instructions were issued for all participants. One of 'Nashi's' leaflets says: "The usual Grandfather Frost is no so young, a bit drunk and doesn't believe in miracles. Our Grandfather Frost is young and sober. And not only does he believe in miracles, he's actually going to make them happen."It may have been a pre-planned miracle (the veterans were warned in advance) but it certainly was a happy moment for them.
You can share this story on social media: