Moscow's Uzbeks rally fearing for their families lives in Kyrgyzstan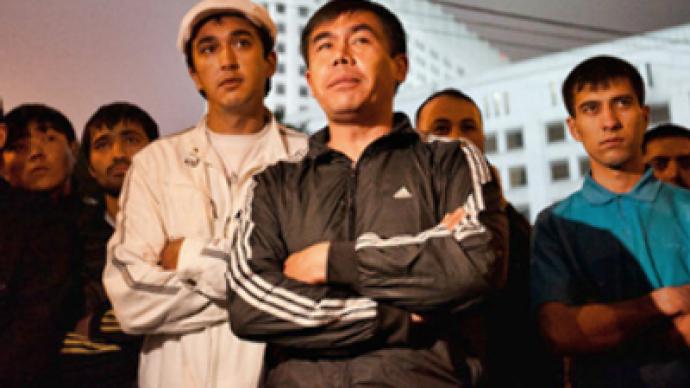 The Uzbek community in Moscow has been rallying outside Russia's Foreign Ministry. They fear for the lives of their relatives suffering from ethnic violence back in Kyrgyzstan and are calling for help.
The ethnic clashes in Kyrgyzstan have already forced hundreds of thousands of Uzbek nationals to flee for the borders in fear for their lives and with their homes destroyed.
While Moscow is providing humanitarian and medical aid, it has so far refused to intervene militarily, calling it an internal issue and saying that foreign involvement could aggravate the situation further.
But for those rallying, the situation cannot get much worse.
"Yesterday, my father simply went out to buy some groceries and got shot by snipers," one person said. "He's not a nationalist. He's just an ordinary person who went out into the street."
"They are being killed and the ruling government is facilitating them," said another. "They are just watching people die."
Murat Abdullazhanov came to Moscow to provide a better life for his wife and his children, but is now deeply concerned for their safety.
"My house has been burnt down and my wife and children are trapped in the basement with no food," claimed Abdullazhanov. "My youngest child is just two. I can't stand it. They're my family, they must not touch them."
An emotional phone call to his wife reveals just how desperate their situation is.

"I'm calling from Jalal-Abad," she said. "Our houses have been burned down. There are about 20 of us. The children are crying, hungry, cold. We don't have anything. We can't do anything. Please help us!"
"I hear my wife crying, my children are with her," said Murat Abdullazhanov. "I can't eat. Can't sleep. Let Russia help us. Let there be justice. There is no justice there now. They have connections – an Uzbek can't complain to anyone. They burned down houses all over the city. The humanitarian aid Russia sends – it all goes to Bishkek. The Uzbeks never got any of that aid. They can't even come out of their houses. They'll be shot."
Murat is not alone. His calls for Moscow to help are echoed by many who feel the interim government is simply too weak to cope with the situation.
As the humanitarian crisis continues, those with family caught in the conflict are left desperately hoping for an end to the bloodshed.
You can share this story on social media: