Moscow joins world-wide green celebration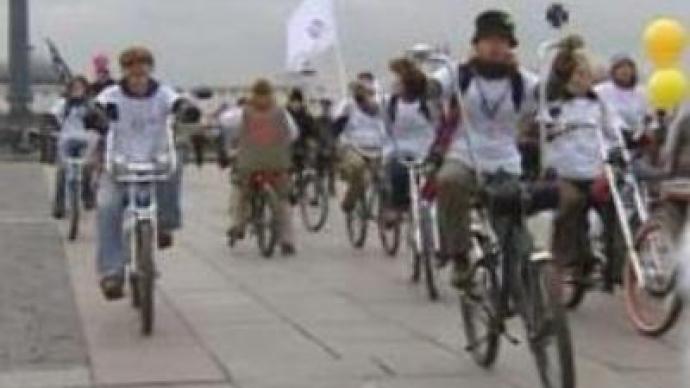 Giant swings, rollerblades and exotic bikes – Moscow joined the celebration of the International Earth Day. Marked by more than 500 million people in more than a hundred countries, it aims to bring global ecological issues into focus.
Want to save the planet – get on a bike. That was the idea behind a ride organized by Moscow bike lovers to mark the International Earth Day. Their slogans "No Dirt" and "Cars Go Home" reflect their way to respect the environment and fight the capital's chronic traffic jams, say these enthusiasts.
"The more people swap cars for bikes the less traffic jams we'll have. You won't be stuck for hours – it's fast and easy by bike. And it's the most ecological form of transport,"
says one of the riders.To make people care more about Mother Nature no attention-grabbing tricks were spared this Sunday. The eco-festival featured a show of bikes of most unusual designs. The also set a new Guinness world record for the longest ever alley of swings – made of eco-materials of course.Music and balloons were all there, but for the environmentalists the event was a good chance to talk global problems.
"This festival is just another opportunity to remind us that we all live on the same planet – that there's only one planet Earth: that global warming for instance isn't something that's happening out there somewhere – it's here and now,"
says Oleg Mitvol, deputy head of Rosprirodnadzor, the Russian federal environmental agency.
You can share this story on social media: