Mafia shakedown: EU relief funds for L'Aquila earthquake 'misused' by criminals
Published time: 5 Nov, 2013 10:55
Edited time: 5 Nov, 2013 10:58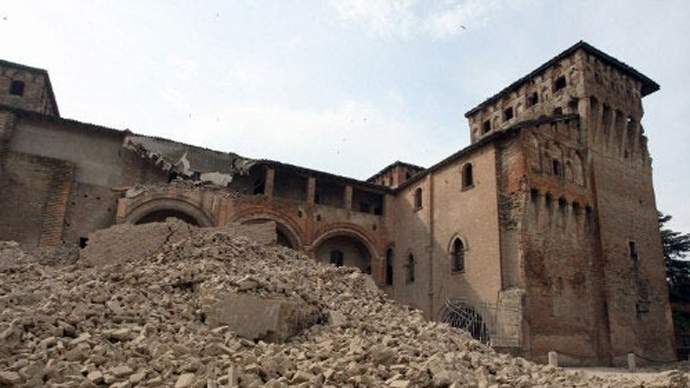 Some EU funds set up to rebuild the medieval Italian town of L'Aquila after the 2009 earthquake were diverted to companies with links to the Mafia, EU investigators concluded in their inquiry into reconstruction efforts after the magnitude 6.3 quake.
The EU rapporteur, Soren Bo Sondergaard, said in the report that there was evidence that some of the 494,000-euro donation was paid to construction companies with "direct or indirect ties to organized crime." Apart from cases of fraud, wanted criminals were discovered at a factory run by one of the contractors.

Fears that taxpayers' money could end up in deep mafia pockets have been circulating for a long time, and eventually appear to have been realized. The EU had made several hundred million euro available for the region from its Solidarity Fund, while the direct damage caused by the earthquake has been estimated at over 10 billion euro.

The earthquake which hit the medieval mountain town on April 6, 2009, killed over 300 people and left tens of thousands homeless.


Investigators have also slammed the quality of the newly-constructed accommodation, with unhealthy and shoddily constructed homes dangerous to live in, meanwhile some of them are said to be overpriced by more than two-and-a-half times. The authors of the report reproved the Italian authorities and the European Union Commission in Brussels for negligence to ensure that EU taxpayers' money was well spent.

The entire town, built in the 13th century and mirroring the city plan of Jerusalem, became uninhabitable. L'Aquila is still more like a ghost town. Fifty-five neighboring municipalities were also affected by the earthquake; some were completely destroyed. Authorities said poor building standards were to blame for the death toll.

In 2010 and 2011, the Prosecutor of Aquila opened several enquiries into the misuse of the funds for emergency and reconstruction by criminal organizations. Back then the prosecutor national substitute of the National Anti-Mafia Department, Olga Capasso, noted that among the problems related to combating organized crime, "Aquila is one of the biggest problems at a national level."