Mexican presidential poll: result announcement delayed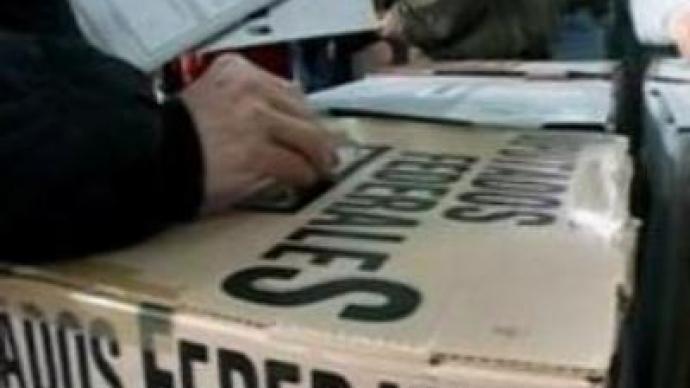 Officials have delayed announcing results of Mexico's presidential election. They say the result is too close to call after an initial count of the vote and that it will take two days to declare.
Voters went to the polls on Sunday, many queuing for hours to cast ballots. Electoral officials had pushed for a quick count but say they cannot release initial results as the margin between them is so small.President Vicente Fox appealed for calm amid fears a close result would raise the potential for violence. Meanwhile, candidates Felipe Calderon and Andres Obrador have both declared victory.The battle for a successor to outgoing President Fox has been fierce. The lengthy campaign has seen a bitter exchange of political insults alongside a rise in drug violence. This has served to divide public opinion.Polls show a tight race between socialist anti-poverty crusader Andrez Manwell Lopez Obrador and conservative Felipey Calderon, a former energy minister from Fox's ruling party. Leftist Obrador has led opinion polls, but only by about two percentage points.In a nation where at least half the population lives on less than five dollars a day, Obrador's promise to pay for welfare programmes by slashing bureaucracy has won support from Mexico's poor. His opponent, Calderon, says Obrador's plans would only lead to more debt and is confident his conservative policies will see him to victory.With the
United States
on the sidelines throughout the campaign, both candidates agree on closer
U.S.
ties and a crackdown on drug trafficking.A third candidate, Roberto Madrazo, lags behind in opinion polls, but with his electoral machinery famed for encouraging supporters out to vote, he may do better than his poll numbers suggest.
Mexico
is still battling to become fully democratic after seven decades of one-party rule ended six years ago. Despite having one of
South America
's most stable economies, the fight against poverty still tops the political agenda.
You can share this story on social media: