Kids and guns – a deadly combination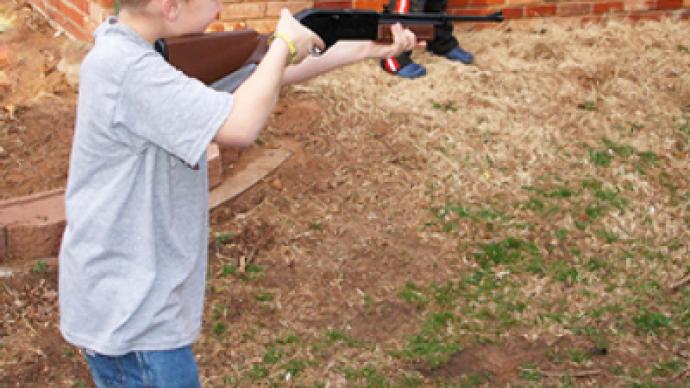 Games with guns led to the two instances of tragic deaths of children in different parts of Russia on the same day – May 14, Interfax news agency reports.
Two boys in the village of Ivanovka in Russia's Irkutsk Region just wanted to play computer games, but in the end a five-year-old ended up killing his six-year-old friend using his father's rifle. He found the weapon hidden under the bed and for some reason it was loaded.
"The boy shot his friend and hit him in the head. The wound was lethal," Vladinir Salovarov from Irkutsk Region Prosecutor's office said.
A criminal case for careless storage of weapons has now been launched against the rifle's owner.
Elsewhere, one 10-year-old kid died in Russia's Far East after his friends had also chosen a hunting rifle as a toy.
The incident took place in one of the villages near the city of Lesozavodsk in May. Two kids of ten and nine years old came to visit their friend when his parents were away.
"The boy found the keys to the gun safe in his fathers belongings. He opened it without permission, took a hunting rifle and started playing with it," Avrora Rimskaya from the Primorie Region Prosecutor's Office said.
During the game the boy loaded the gun with bullets, planted the gun towards the door and pulled the trigger.
"The shot charge broke through the interior door and hit the other boy who was standing behind it. Despite all the efforts, doctors were unable to save him. He died in an ambulance," Avrora Rimskaya added.
Tragic games
Games with guns have been one reason for many accidents in Russia in recent years.
Back in 2007, a six-year-old boy shot his four-year-old friend dead with his father's rifle in the Sverdlovsk Region. The kids were left without supervision from the grownups. One boy pointed the gun at another and pulled the trigger. The chest wound was fatal, but the boy who shot claimed he thought the gun was not loaded.
Another tragedy shocked the residents of Dobchur village in the Irkutsk Region in 2006. An eight-year-old killed a four-year-old using a rifle, which his parent owned illegally.
You can share this story on social media: