Ka-50 helicopters to be supplied to Russian Army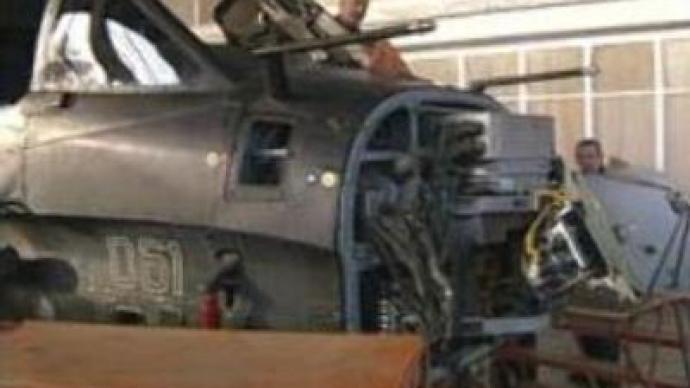 Russia has resumed production of the Ka-50 Black Shark helicopter. The project was frozen for almost 10 years. Last year, the Kamov military Design Bureau won a tender to supply the Russian Army with several Black Sharks in 2007.
They will be used in the most dangerous mountainous areas – mainly in the North Caucasus region of Russia. The KA-50, or the Black Shark, was designed 30 years ago as an invulnerable super-gunship. At its test flight in 1982, it astonished even experienced pilots with its flying characteristics, combat capabilities and an unusual shark-shape. It was designed and engineered as a tank-killer, a reconnaissance helicopter, maneuverable high in the sky, and fast in narrow mountain spaces even at night. It packs over 2 tons of ammo, including self-guided missiles with a range of 10 kilometers, and an automatic seeker with a fire-and-forget mode able to hit a target in a matter of seconds. In the 80-ies, the Black Shark was a part of the Arms Race. Built to compete with the American AH-64 Apache helicopter, Russian designers managed to make quite a difference. It is faster than the Apache and much more maneuverable. Moreover, the Black Shark is the only helicopter in the world that can fly sideways and backwards at a hundred kilometres-per-hour. Many experts say it can do the impossible. A mountain operation is one of the most dangerous tasks. And Sergey Papay, a pilot with more than 30 years of experience, says he feels comfortable even in that environment.
"In the mountains, flying in a canyon that you don't know, can get narrow. And helicopters, you know, need some space to turn back. In this machine you just drop the speed to a hundred kilometers an hour, pull the lever – and it turns 180 degrees right on the spot,"
he says. In addition to that, specialists say, with all its advantages the Shark is still cheaper than other combat helicopters. What's more important, it has been well-tested – it had over 4,000 hours of test-flights, which is much more than other Russian models of the kind. Even though the Black Shark was almost forgotten in the economic crisis of the 1990-ies, it's making a come-back now. The Kamov Design Bureau, the place where it's assembled, is restarting series production.Nikolay Baranov, a former naval aviation officer in the Russian armed forces, said there were no doubts the military would benefit from investing in the Black Shark programme.
"This helicopter is modern enough. The technical capabilities of today's American and European choppers are inferior to this gunship. I don't think we can compare it to other helicopters.I think the army is doing the right thing by spending money on these Black Sharks. It's modern equipment, it's a step forward. These helicopters could be used in action. I believe there will be further technological progress in this field and in our country in general.There probably won't be that many helicopters of this kind – just tens – but their capacities will be used to the full. Besides I think those who are fighting for global security today will also give the choppers credit,"
he explained.
You can share this story on social media: