Israeli submarine responsible for July attack on Syrian arms depot - report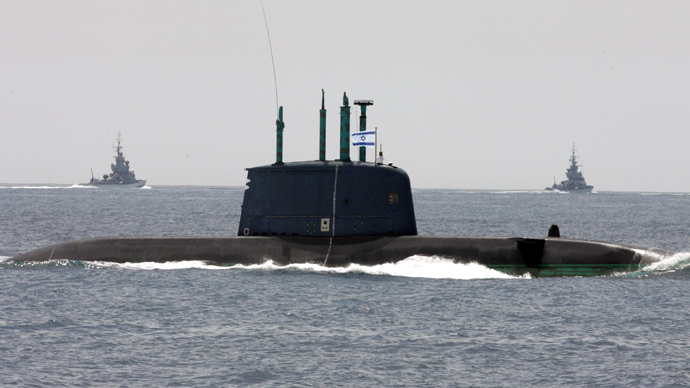 Israeli submarines carried out the attack on an arms depot in the Syrian port city of Latakia on July 5, according to a report published in the British Sunday Times. US media previously claimed the offensive was carried out by the Israel Air Force.
The Times cited Middle East intelligence sources as stating that the Israeli Dolphin-class submarines targeted a contingent of 50 Russian-made Yakhont P-800 anti-ship missiles that had reportedly arrived earlier this year to support Syrian President Bashar Assad's regime.

The alleged Israeli naval strike was reportedly closely coordinated with the US.

The Yakhont is an expert version of Russian P-800 Oniks supersonic cruise missiles, which can carry 200kg warheads as far as 300km long. They can be launched from land, sea, air and submarine. The Yakhont missiles are also capable of cruising several meters above the water surface, making them difficult to detect by radar.

According to the newspaper, the Israeli fleet of German-built submarines launched a cruise missile at the weapons cache after which Syrian rebels reportedly attested to hearing early-morning explosions at a Syrian port-side naval barracks.

Syrian rebels said that they were not responsible for the explosions.

A spokesman for the Free Syrian Army's Supreme Military Council, Qassem Saadeddine, confirmed the attack hit Syrian Navy barracks at Safira. He said the rebel forces' intelligence network had identified the newly supplied Yakhont missiles being stored there.

According to the rebels, the scale of the blasts was beyond the firepower available to them, but consistent with that of a modern military like Israel's.

"It was not the FSA that targeted this," Saadeddine told Reuters. "It is not an attack that was carried out by rebels. This attack was either by air raid or long-range missiles fired from boats in the Mediterranean," he added.

The pre-dawn attack was first reported by CNN.

Several unnamed US officials allegedly told The New York Times, in an article published on Saturday, that the Israeli Air Force had targeted the Russian-made anti-ship missiles that posed a threat to Israel's naval forces.

Israel has neither confirmed nor denied involvement in the attack.   However, the Israeli Prime Minister Benjamin Netanyahu spoke out about the attack on Sunday, insisting he would not allow "the transfer of dangerous weapons to Hezbollah in Lebanon," in an interview with CBS, while still refusing to confirm whether the country played a role.

Other Israeli officials took a similar stance.

The Israeli submarine fleet consists of five Dolphin class boats. The vessels were developed and constructed for the IDF between 1998 and 2012, by which Germany's Howaldtswerke-Deutsche Werft shipbuilding company. The Dolphin class boats are considered among the most sophisticated and capable conventionally powered submarines in the world. Each submarine can carry up to 16 torpedoes and cruise missiles, which have a range of 1,500km and may be equipped with conventional warheads or a 200km nuclear warhead.

"We have set red lines in regards to our own interests, and we keep them. There is an attack here, an explosion there, various versions - in any event, in the Middle East it is usually we who are blamed for most," Israeli Defense Minister Moshe Yaalon said in response to the Latakia blasts.

According to regional intelligence sources, cited by Reuters, the Israelis previously struck in Syria at least three times earlier this year to prevent the transfer of advanced weaponry from Assad's army to Iranian-backed Hezbollah fighters in Lebanon.

Amir Oren, a Senior Correspondent and columnist for Israel Daily, Haaretz, told RT that Israel does not preempt Syrian missiles -surface -to-surface, surface-to-air, or coast-to-sea.

"It does so (preempt) only when Syria seems to be on the verge of transporting, transferring those missiles to Hezbollah. In Hezbollah's hands, south and central Lebanon…they may threaten the northern part of Israel – maritime activity, gas installations, refineries and population centers. So rather than wait until these missiles reach Beirut or Sidon, Israel probably decided to preempt and hit the Latakia missiles,"Oren said.

In all prior cases of strikes thought to be linked to Israel's armed forces, Israeli officials have not gone on record to take responsibility for the attacks. Tel Aviv has made it clear however, that the country is prepared to go into Syria if it means preventing Hezbollah or other militant groups from obtaining additional weaponry, including chemical weapons.

The Syrian government has not commented on the incident either; a state television report mentioned a "series of explosions" at the site.

"Israel would love to keep out of the war in Syria and would like the various forces there to keep fighting each other rather than attacking Israel," said Oren. "The rebels may take Syria out of its relationship with Iran, Israel's bitter enemy, but, at the same time, they may be connected with Al-Qaeda, with global jihad, which is another sworn enemy of Israel."