​Victim's mother reprieves Iranian Killer with noose around his neck
Published time: 17 Apr, 2014 19:37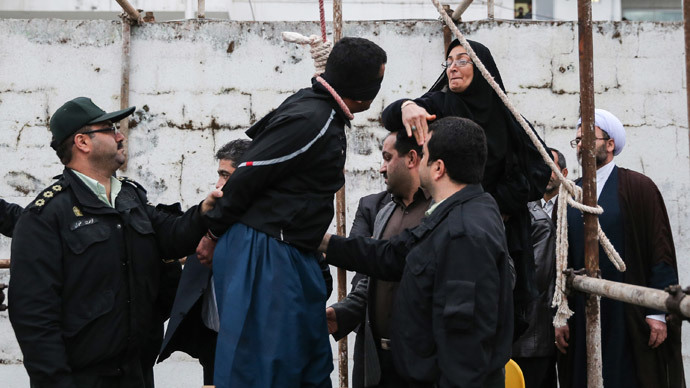 A young Iranian man convicted of murder has been reprieved at the last second by the mother of his victim.
As the man called Balal stood on the gallows the mother walked up, slapped him in the face and forgive him, her husband then removed the noose and Balal's life was spared.
Seven years ago Balal, who is in his 20s, stabbed 18-year-old Abdollah Hosseinzadeh during a street brawl in the small town of Royan.
As part of the sharia law of retribution, the victim's family was to participate in Balal's execution by pushing away the chair on which he stood
Balal's mother was overjoyed and hugged the mother of the man her son had killed.
The two women sobbed in each other's arms for a while.
The victim's father, Abdolghani Hosseinzadeh, said his wife had made her decision after a dream. "Three days ago, my wife saw my elder son in a dream telling her that they are in a good place and for her not to retaliate," he said.
In Sharia law the victim's family is allowed both, to take part in the execution, or to spare the death sentence, but not the jail term.
There are more public executions in Iran than in any other country apart from China.