At least 8 killed as 5.6-magnitude quake hits near Iranian provincial capital
Published time: 5 Dec, 2012 17:48
Edited time: 6 Dec, 2012 04:29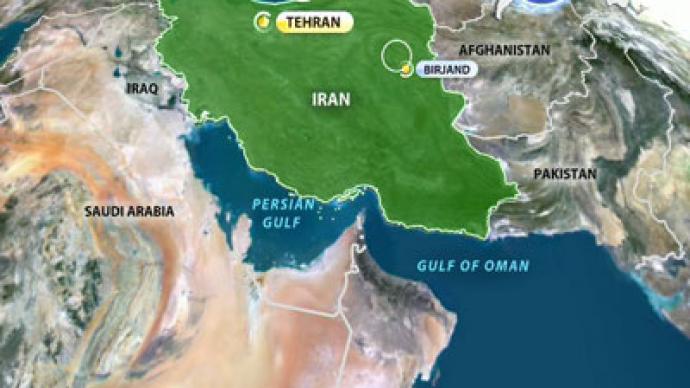 A 5.6-magnitude earthquake has been reported 42 miles (68 kilometers) north-northeast of Birjand, a regional capital city in eastern Iran. At least eight people have been killed and several injured, state TV reports.
Iran's Fars news agency reported people fleeing their homes in panic in Birjand. The quake was severe enough to damage some property, Fars added.
Rescue teams were dispatched to an area where 12 villages were affected by the quake.

Birjand is located close to the border with Afghanistan, and is home to about 158,000 people.­
The quake struck at 17:08 GMT, the USGS said.
Twin earthquakes measuring 6.4 and 6.3 on the Richter scale struck north-western Iran in August, inflicting heavy damage in the cities of Tabriz, Ahar and Varzaqan and leaving more than 300 dead, some 3,000 injured and 100,000 displaced.
More than 1,800 aftershocks have been reported in the area since August, the last one being a 5.1-magnitude November quake near Varzaqan.
In 2003 a 6.6-magnitude earthquake hit the southeastern Iranian city of Bam, destroying most of the city and killing 26,000 people, with more than 30,000 injured.
More than 126,000 people have lost their lives in catastrophic earthquakes on Iran's territory in the last century, according to Encyclopaedia Iranica. The earthquake-prone Iranian plateau dominates much of the region, making Iran one of the most seismically active countries in the world.