Sanction bypass? Iranian cell phone operator acquired banned US tech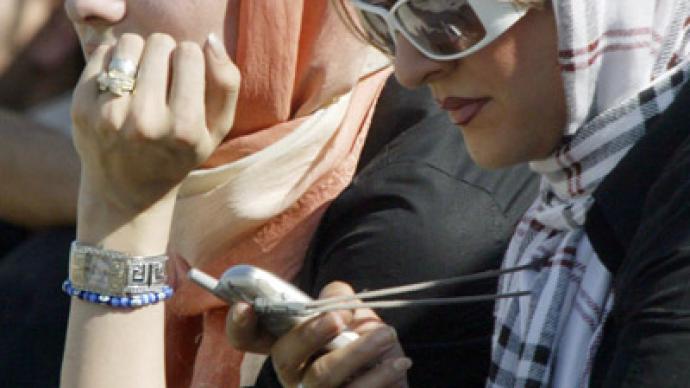 Sanctions banning the sale of American technology to Iran didn't stop an Iranian cell phone carrier from obtaining sophisticated US computer equipment, according to documents and interviews.
MTN Irancell, Iran's second-largest mobile phone operator, which is partially controlled by the country's government, was able to source equipment from Sun Microsystems Inc., Hewlett Packard Co. and Cisco Systems Co. through a series of intricate and shady deals that involved a network of companies in Iran and the Middle East, exclusive Reuters material shows. Chris Kilowan, the company's top executive from 2004 to 2007, said his firm's parent company, the South-African based telecommunications giant MTN, was largely responsible for the procurement of the material. "All the procedures and processes around procurement were established by MTN," he said. A 2008 MTN Irancell document shows that the company was specifically interested in acquiring embargoed goods. It spells out the requirement of a managed-services contract, explicitly stating in a section on product-support agreements for third-party equipment that "this should include embargo items." The document also lists the required material, which included Cisco routers, Sun servers and HP products. The contract eventually went to Huawei Technologies Co., China's largest telecommunications provider. A spokesperson for Huawei has since said the company was "unaware" of the contract document that refers to "embargo items" and said the firm respects US law and did not provide any equipment to MTN Irancell. The companies from which the cell phone carrier allegedly obtained material also denied any wrongdoing."Cisco complies with all US export laws and requires our business partners to expressly acknowledge that they too must abide by these laws," a spokesperson for Cisco stated "We have been unable to find any information suggesting that Cisco employees were aware of any sales of Cisco equipment to Iran. We continue to investigate this matter, as any violation of US export controls is a very serious matter."A spokesperson for HP said the company's distribution contract terms prohibit trading with Iran."Compliance with US and international trade law is a high priority for HP," the spokesperson stressed.
Iranian companies set up firm to "camouflage" embargoed purchases
Kilowan said his company had managed to obtain half a dozen Sun servers through an Iranian firm called Patsa Co., which later won a contract to manage MTN Irancell's data center. Kilowan stated that Patsa Co. could only have the contract if it linked up with the cell phone operator's Iranian partners, Sairan, believed to be controlled by the country's Defense Ministry, and Bonyad Mostazafan, which allegedly reports directly to the Supreme Leader, Ayatollah Ali Khamenei. Kilowan said the three companies then set up Arya Hamrah Samaneh Co. which was used to "camouflage" the purchases of embargoed material. Arya Hamrah's website says the firm was set up in 2006 and was "a leading technology services company." An archived copy of its site in 2007 listed only one customer under "Projects" – MTN Irancell. It also stated that Arya Hamrah was involved in "procurement" for the cell phone carrier's data center. An Iranian familiar with Arya Hamrah Samaneh Co. was able to procure equipment for MTN Irancell from Sun and HP through Dubai without any problems. Another person acquainted with Arya Hamrah said one of the sources for the Sun equipment was the Iranian firm Fakour Co., an occasional competitor of Arya Hamrah. "For near twenty years, Fakour Co has been recognized for its innovation and leadership in bringing network computing products, especially Sun Microsystems products and services, to the country's market," Fakour Co.'s website states. Its list of customers includes Arya Hamrah, Huawei and MTN Irancell, as well as Iranian banks, the Iranian Ministry of Energy and several Iranian oil companies. MTN has denied allegations of orchestrating the sanction bypass. The company had called Kilowan "a disgruntled employee" and an unreliable source of information in the past."To the best of our knowledge, MTN personnel, directly or indirectly, did not acquire or seek to acquire equipment for use in Irancell's operations in a manner that was intended to avoid or circumvent US sanctions," Paul Norman, MTN Group's Chief corporate affairs officer, stated. "MTN is committed to compliance with US sanctions, and is working with the US government and its international legal counsel to remain compliant. MTN owns a non-controlling 49 per cent share in Irancell."However, there is other evidence to back Kilowan's claims. Mahmoud Tadjallimehr, a former project manager at MTN Irancell, said he was present when the telecom carrier obtained more than ten Cisco routers in 2007. He said a subcontractor called Shabakkat "did all the work to source the products."  Shabakkat, a Kuwaiti telecom service provider, had a unit in Iran called Shabakkat Cellular at the time. Issad Assoufi, Shabakkat Cellular's country manager in 2007, said his firm had purchased the equipment from another Iranian company. He refused to provide its name, but stressed it was not Arya Hamrah."I don't have anything to hide," Assoufi stated "I didn't do anything illegal."The fog surrounding the details of the procurement doesn't alter the fact that evidence indicates a company was able to circumvent US-imposed economic sanctions. The sanctions are intended to force Iran to abandon its nuclear program, which Tehran maintains is peaceful, but which the US and its allies believe may be used for military purposes.  The measures stipulate that no US Company can sell goods and services to Iran unless it gets special authorization.