Indonesia challenged by two major disasters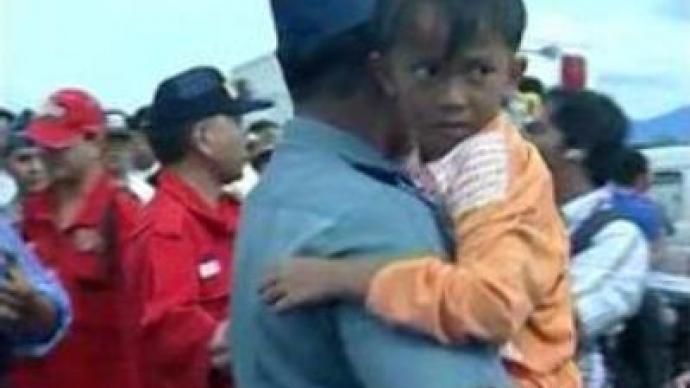 Indonesia is struggling to cope with the two disasters that hit the county last week. People who were aboard the ferry that sunk on Friday are still being found alive five days on, and a missing jet still hasn't been located after 48 hours.
The ferry with 628 people onboard sank late on Friday after being pounded by waves for 10 hours during a violent storm. It was en route from Indonesia's section of Borneo to the main island of Java.As the rescue effort enters its fifth day, any chance of finding survivors were drowning in the waves of the Java Sea. At least 212 people have been found alive so far, but some 400 remain missing. Lately, 11 men and a 6-year-old boy who were on board were found alive after they clambered onto an offshore oil rig.Relatives have flocked to hospitals and ports along Java's coast, hoping their loved ones are still alive.And the same hope keeps people in the country's airports waiting for any news about their loved ones from the missing Adam Air Flight 574. The passenger plane carrying 102 passengers including 11 children went missing between two Indonesian islands just days after the ferry sank.The emergency efforts have been greatly intensified with rescue services combing central Sulawesi, the crafts destination, but searches have now been extended to the sea.The disaster took an agonising twist on Tuesday when false information surfaced about finding the craft. The erroneous reports reached Indonesia's highest aviation official from local police in what's been dubbed as a massive case of 'Chinese whispers'.The airline has set up an information centre for families of passengers, but now the aviation authorities are being more cautious in releasing any news.
You can share this story on social media: