Blasts rock rally of controversial Hindu nationalist leader
Published time: 27 Oct, 2013 07:55
Edited time: 27 Oct, 2013 14:30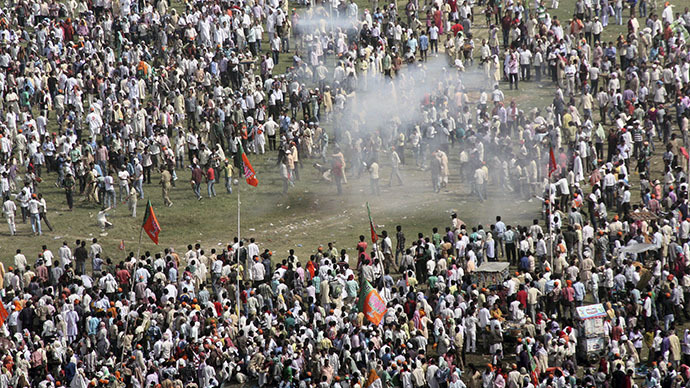 Five people were killed and over 83 wounded when multiple bomb blasts hit the city of Patna in eastern India just hours before a rally for major opposition candidate Narendra Modi.
At least six homemade bombs exploded near a public ground in Patna where tens of thousands of people had gathered to hear Modi, a controversial figure from the Hindu nationalist Bharatiya Janata party (BJP), speak.

"There was a blast right behind me. I heard people saying that one of the tires of a vehicle has burst," a witness told Reuters. "When I went to the spot, I saw many people lying injured on the ground."

Television broadcast scenes of panic, as people ran amidst a backdrop of shattered glass from buses and billowing smoke.  

"All the bombs produced low-intensity blasts," said Patna district police chief Manu Maharaj. "An anti-sabotage team is investigating what happened."

Modi did not mention the blasts in his speech, but later called them "deeply saddening" on his Facebook page. Both he and Indian Prime Minister, Manmohan Singh appealed for calm.

The prime minister also called for "urgent steps to identify and take action against those responsible."


Two more bombs were found near the railway station and the bomb team was defusing them, railway police superintendent Upendra Kumar Sinha said.

Four people are being interrogated about the explosions, NDTV reported the police as saying.

AP cited security forces as saying that they had detained one man for questioning, but did not say whether he was a suspect.

Modi, who is the chief minister of Gujarat state, is an equally influential and controversial Hindu nationalist leader. He has been accused of standing idly by as hundreds of Muslims were killed following a train carrying Hindu pilgrims was set ablaze in 2002. 

A Supreme Court-appointed panel cleared him of any wrongdoing in the riots, and Modi himself has denied any accusations of bias.

On Sunday, he sought to broaden his appeal ahead of next summer's elections by claiming poverty was an issue that cut across religious lines.

"Do you want to fight against poverty or against Hindus?," he asked. "Poor Muslims have to fight against poverty. Poor Hindus have to fight against poverty."

He also accused Singh's ruling Indian National Congress for economic mismanagement which sparked high inflation in the country.