Human rights observers demand police actions examined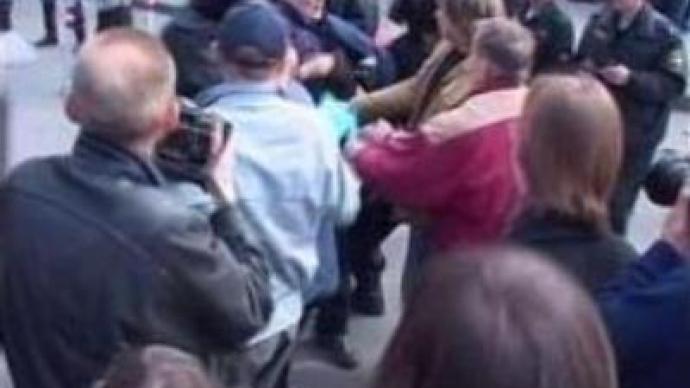 Politicians and human rights groups in Russia have called for a close examination of claims citizens' rights were abused during the weekend's demonstrations of opposition supporters in Moscow and St Petersburg.
Those who took to the streets during Sunday's "March of Disagreement" are now complaining against what they say was the "excessive use of force" by riot police.The governor of St. Petersburg, Valentina Matvienko, called for a close examination of claims that citizens' rights were abused. And Russia's ombudsman Vladimir Lukin pledged to review the complaints of people who took part in the demonstrations.
"What I saw in televised reports has left me with impression that law enforcers have seriously abused their rights in handling protestors. I am ready to insist the Prosecutor General's Office initiates criminal cases, which I will oversee in courts if there is enough evidence the policemen committed wrongdoing,"
he stated. Pavel Gusev, the Head of the Media Commission with Russia's Public Chamber says not only citizens but also journalists were injured. He believes they were prevented from performing their job properly.
"During the Sunday rallies some journalists were beaten, some had their heads injured, some were detained and later released. I think that the police actions are the result of poor coordination between the authorities and journalistic organisations. And, also, we have to account for the fact that riot policemen had been brought from various parts of the country. And I think that many of them had simply not been accustomed to the conditions in the capital under which journalists are working openly and freely,"
he commented. Local authorities had sanctioned the rallies in both cities, but participants were banned from marching through the streets.The demonstrations went relatively peacefully but were marred by clashes between police and activists of radical youth groups, who tried to break the police cordon and hold an unauthorised march. That led to arrests of over one hundred people.In March, security forces couldn't contain the thousands of demonstrators who rallied through the streets of Saint Petersburg clashing with police. This time opposition rallies were less successful, gathering fewer protesters but authorities say they took all the necessary steps to avoid disturbances, and claim the heavy police presence was the key to public safety.
You can share this story on social media: