Hearings on Kondopoga nationalist-tainted clashes underway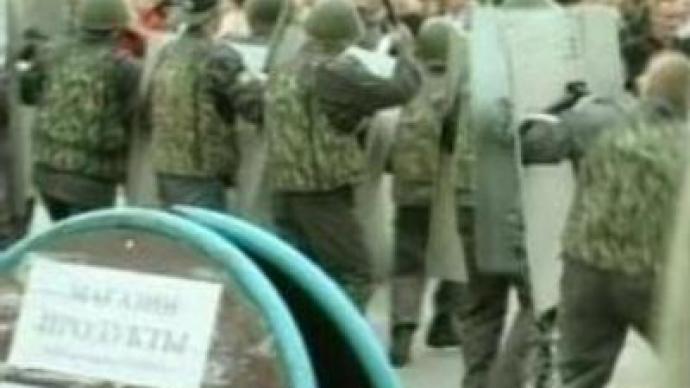 In the northern Russian city of Kondopoga (republic of Karelia) two men have gone on trial over a restaurant brawl that led to widespread ethnic clashes last September.
A wave of disorder in the small Karelian town of Kondopoga was ignited by angry crowds blaming local Chechens for the death of two ethnic Russian residents. They were killed in a Chechen-owned "Chaika" restaurant in a fight with a group of people from the North Caucasus on August 30, 2006, when 10 more were seriously wounded. It took police and army forces a couple of days to restore order. Now there is very little sign of the events of nearly half-year ago. The "Chaika" restaurant is under reconstruction. It is said that it may be turned into a youth culture centre. Meanwhile court hearings on this case are underway. Local men Sergey Mazgalev and Yury Pliev are accused of hooliganism and battery. Pliev pleaded not guilty.Though prosecutors consider them to have sparked off last year's nationalist-tainted clashes, some local people have a different point of view.
"I think the court will find out who is really to blame,"
says Lyudmila Babicheva.
"These two
young men didn't kill anybody. Others did, and they must be punished."
"Today, criminal proceedings will be taken against all people involved in the events. No matter where they were – right inside the restaurant or – later – outside it,"
assures Anatoly Kucherena, barrister and member of the Public Chamber.
And the town's administration was criticised by officials for not doing enough to stop the disorder. Mr Kucherena says:
"As for the local authorities, I reiterate, they could have prevented this blood shed if only they had understood and evaluated the situation in Kondopoga earlier."

You can share this story on social media: