Hamas and Fatah agree on national unity government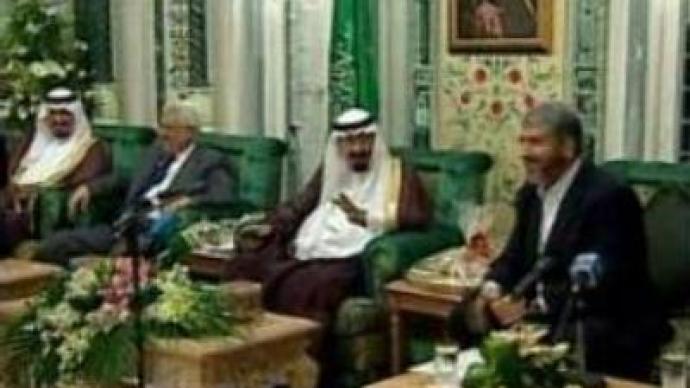 Rival Palestinian leaders of Hamas and Fatah have signed the agreement on a power-sharing government. The breakthrough came on the second day of crisis talks between the two sides in the holy city of Mecca in Saudi Arabia.
After two days of crisis talks in Saudi Arabia's holy city of Mecca, finally it looks like Hamas and Fatah high-ranking officials have agreed on the long-awaited step of forming a unity government of Palestine containing members of both groups.The signing ceremony was attended by Saudi Arabia's King Abdullah, Palestinian Authority Chairman Mahmoud Abbas of Fatah, Hamas political leader in Gaza Khaled Mashaal and Palestinian Prime Minister, also representing Hamas, Ismail Haniya.
"From here starts a new phase in the stages of Palestinian work, God willing, stages of a serious project, to complete the project of movement, and for the protection of our national aim and to break free from surrounding aggression,"
said Mr Haniya.Many people in the region surprised that the deal was struck so quickly. Signing the deal, the leader of Hamas delegation, Khaled Mashaal said that all the Palestinian factions would adhere to it. On his side, Palestinian president and the leader of Fatah delegation Mahmoud Abbas said the deal is good news for his people and would bring about the end to the bloodbath that has been taking place in the region during the past few weeks.
"We ask God to ensure that this agreement is successful and on our first meeting with brother Ismail Haniyeh, we start a new era with a new government that is capable of bringing an end to our suffering,"
stressed Mr Abbas.As a result of the talks, Ismail Haniya representing Hamas has been decided to remain in his position of the Prime Minister, although his deputy will come from the Fatah party. Now Mr Haniya has 5 weeks to form a new government, which is to be comprised of 9 ministers from Hamas, 6 from Fatah and 3 independent candidates. Those three will take up very important posts of the Finance Minister, the Foreign Minister and the Interior Minister. The latter post is especially important as this minister will be in charge of the security forces, which are traditionally very powerful in the region.In addition, Hamas promises to respect the previous agreements between Palestinians and Israelis in case they do not contradict Palestinian interests.If the new government will be recognised by the international community, it is likely that the financial boycott imposed on Hamas will be lifted. This could also mean the resumption of peace process with Israel.Meantime, Israeli Foreign Minister Tzipi Livni called on the international community to ensure the government recognized the state of Israel.Those requirements include laying down weapons, adhering to past agreements between Israelis and Palestinians, and recognizing Israel.
You can share this story on social media: