Big-hearted grandma donates life savings away to maternity home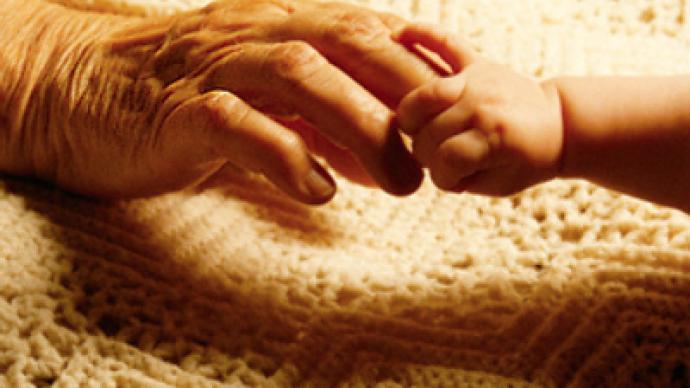 An 88-year-old WWII veteran has donated all her life savings to a maternity home in southern European Russia. The case is unique for a country where pensioners can hardly make ends meet.
Evgenia Kekina had been saving up for many years, and when the sum reached 400,000 roubles – approximately $13,000 – she decided to give her money to children in Astrakhan's maternity home.
Having gone through fire and water, Komsomolskaya Pravda paper writes, the lady was used to difficulties and didn't need much.
"I've gone through the war and hunger," she told the head doctor of the clinic. "I've saved the money and want to help your kids for god's sake. I haven't got children of my own, and I don't need lots of clothes. Modest food is enough for me."
The elderly lady said she wanted children to be born healthy and grow happy.
Upon saying that, she handed over a pillowcase filled with banknotes to the doctor, who was struck dumb by the scene. Dr. Leonid Ogul wanted to give the money back, but Evgenia was bound and determined.
It was later that her name became ubiquitous to journalists, who jumped on the story, but the woman didn't want publicity.
"What for? I've already had both glory and respect," she is quoted as saying. Evgenia was also worried that "bad people" could break into her house, but she added that burglars would be bored to death in her modest house.
The maternity house's personnel were amazed: it's the first time when an ordinary citizen has donated such an impressive sum of money.
A representative of the local Health Ministry department told Interfax news agency that the generous donation will be spent on buying costly medication to save the lives of weak newborns and to purchase equipment for the maternity house.
It's not surprising that Evgenia Kekina's generosity has attracted media attention. Whilst in many Western countries being a pensioner is probably a time to finally enjoy yourself and travel, in Russia the elderly have to live on the edge of poverty. Lonely pensioners, who don't have children to help them, really have to struggle for survival.
Despite the government's efforts, pensions are still very low. In Astrakhan, according to the regional pension fund, an average monthly pension is only about 5,000 roubles ($160). So, to save up 400,000 roubles one would have to not spend a penny for 80 months.
You can share this story on social media: