Gorbachev celebrates 80th birthday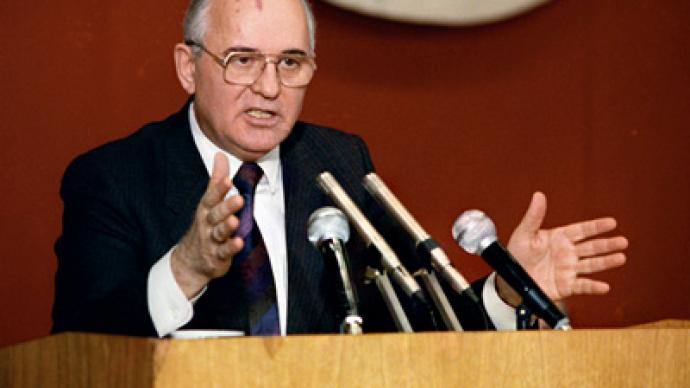 The end of the Cold War, the reunification of Germany, liberalism and Perestroyka. The USSR's first and last president, Mikhail Gorbachev celebrates his 80th birthday today, and his legacy includes being hailed as the father of Russia's democracy.
To mark the anniversary, Dmitry Medvedev awarded Gorbachev Russia's highest award, the order of St. Andrew. The decoration, first established in Imperial Russia, was abolished during the soviet times and re-established in 1998. Only 14 people have received the order before Gorbachev.Mikhail Gorbachev was born in a small village in the south of the country, and became leader of the USSR in 1985.With his economic and political reforms, he paved the way for democracy in Russia. His best known reform is dubbed "Perestroyka", which aimed to revamp the country without destroying the basis of socialism.His initiatives also led to the abolishment of state censorship and the creation of free speech in the country.Gorbachev received the Nobel peace prize in 1990. A year later, however, he was removed from power in a coup which saw the collapse of the Soviet Union and Boris Yeltsin become president.But Mikhail Gorbachev still says his reforms were timely and necessary."We realized from experience that it was dangerous to wait much longer, that we had to take a risk," he told RT in an interview. "But we couldn't postpone it, we needed changes."Gorbachev does not agree when people say that Perestroyka failed:"It didn't fail. It was disrupted, derailed, stopped. But still, Perestroyka achieved a lot. Inside Russia, we had democracy, free elections, freedom of consciousness, private property, freedom to travel abroad –everything. Also, glasnost. There was so much openness – the entire country was affected. People realized they had finally got some freedom, an opportunity to act."The first USSR president points out that the end of the Cold War was among key goals of his administration:"In foreign affairs, we put an end to the Cold War. We normalized our relationship with the US, we reunited Germany – we didn't send our tanks or troops there. All our units in Eastern Europe stayed where they were. It wasn't always easy."However, many things did not work as planned, Gorbachev confessed."At the beginning, when we made our first mistakes, we didn't really explain to people what was going on and didn't get them involved in all those processes – we were self-confident," he said."But in public politics, I don't think we ever lost a major battle," Mikhail Gorbachev concluded.
You can share this story on social media: