Germany announces ambitious plans for EU presidency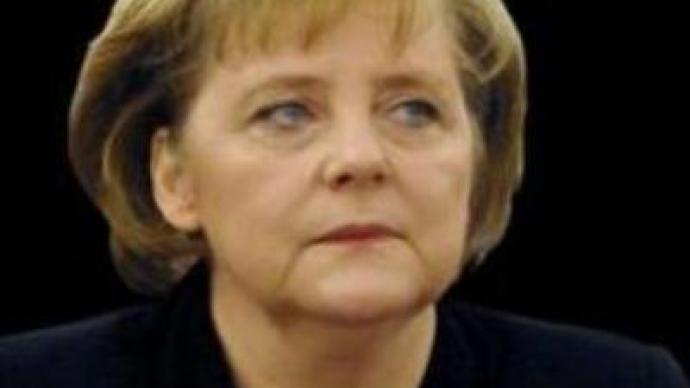 German Chancellor, Angela Merkel, has set out an ambitious programme for her country's 6-month presidency of the EU, which includes plans to revive the stalled EU constitution, and to agree a new partnership deal with Russia.
The Chancellor said Europe risks miring itself in bureaucracy if the EU fails to reform.
"The reflection phase is over. By June, we must work on new decisions. I therefore commit myself to drawing up a schedule for the process so that a draft on the constitution can be adapted by the end of the German presidency,"
Angela Merkel stressed.In little more than a decade, the EU almost doubled in size, admitting ten new countries in 2004 – mainly from Eastern Europe. Bulgaria and Romania joined at the start of this year, enlarging the Union to a 27-state bloc.Reformers said the new constitution is needed to streamline decision-making – without it Brussels will grind to a halt. An agreed draft of the constitution was rejected in referendums in France and the Netherlands in 2005. Analysts said voters were worried that migrant workers from Eastern Europe would take Western jobs. Since then it has remained on the political shelf. Chancellor Merkel wants to revive it, and have it in place by 2009.The rejected constitution called for a single EU Foreign Minister. Angela Merkel said the post is necessary to co-ordinate EU foreign policy, and to give Europe a bigger profile on the world stage.Furthermore, Ms Merkel's ambitious goals for Germany's 6-month presidency include progress on climate change and a new partnership with Russia.On climate change, the Chancellor said she will press the United States to join a post-Kyoto agreement. The EU pushes for a 20% cut in greenhouse gases worldwide by 2020.Central to Germany's presidency is a revival of talks on a co-operation deal between Europe and Russia, as the existing agreement between the two sides expired at the end of last year. Angela Merkel is expected to discuss the prospects of a new co-operation deal with President Putin later in January, when she travels to Sochi.Meanwhile, German former Chancellor Gerhard Schroeder praised Vladimir Putin's input into the stable development of Russia.Mr Schroeder made this statement while speaking at a forum called "Strategic Partnership for a better future", held to mark Russia's co-presidency in the G8.Gerhard Schroeder also criticised European colleagues who approach Russia with their Western standards of democracy.He argued Russia had just 15 years to overcome its communist past and allowances should be made when it is compared to European countries with their centuries-long history of building democratic states.According to Mr Schroeder, it is Vladimir Putin's Russia that has increasingly become an active peace mediator on the world arena.As for Angela Merkel, despite the lofty aims of her programme, many European diplomats downplayed expectations. In particular, they said the chances of a breakthrough over the stalled EU constitution are remote.On the other hand, pro-reformists welcomed Chancellor Merkel's leadership, hoping her ambitious plan can inject fresh life into the European Union.
You can share this story on social media: