Georgia's Economy Minister a go-go dancer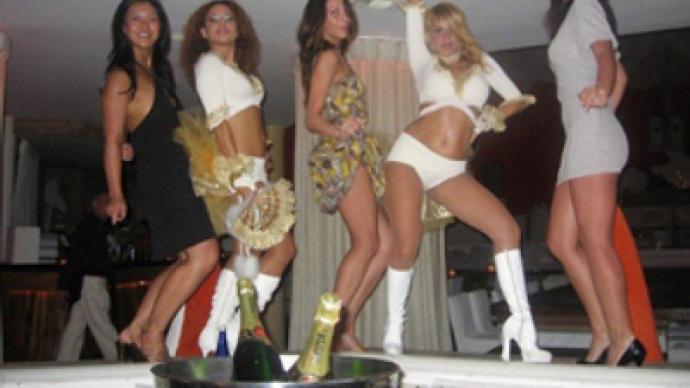 Vera Kobalia, the new Minister of Economy and Sustained Development of Georgia made a scandalous start to her career once photos of her onstage a Canadian strip-club appeared in Facebook.
The photo of the 28-year-old minister was taken in one of the nightclubs in Canada, where she used to live before the appointment.
In the ambiguous photo, she appears in the company of her sister and three dancers, performing a frivolous leg-show on the stage of a strip club, informs Georgian Asaval-Dasavali newspaper.
Another Georgian media source, Kviris Palitra, makes the supposition that the picture was taken in February 2010, during the Winter Olympics in Vancouver, at which Georgian President Mikhail Saakashvili was present and probably first saw Vera Kobalia.
"The responsibility for appointing a 28-year old girl a Minister lies with the president," states the newspaper.
The new composition of the Georgian government, to which Vera Kobalia was appointed Minister of Economy, was confirmed on July 2.
The former president of the National Bank of Georgia, Nodar Djavakhishvili, stated as follows:
"Only Saakashvili could appoint a 28-year-old girl the Minister of Economy. I would not be able to call her a Minister. I do not know her personally. But the fact that she agreed to occupy the position of Minister of Economy does not show her favorably."
"Just how ambitious must a person be to head the economic authority of a country without a corresponding degree and experience in the sphere? Clearly, the freshly-baked minister is yet another favorite of the president," he said.
Vera Kobalia was born August 24, 1981 in Sukhum. After the 1992-1993 Georgian-Abkhazian war, her family moved to Moscow, and then to Canada, where Vera has been living for the last 15 years.
She graduated from the University of British Columbia in 2004, and since then, has occupied leading positions in several business companies, as well as the position of producer at Vancouver's GlobalTV Company.
In February 2010, Vera Kobalia returned to Georgia to head the Coalition for Justice Organization.
You can share this story on social media: