Georgian opposition seeks to turn president's annual speech into debate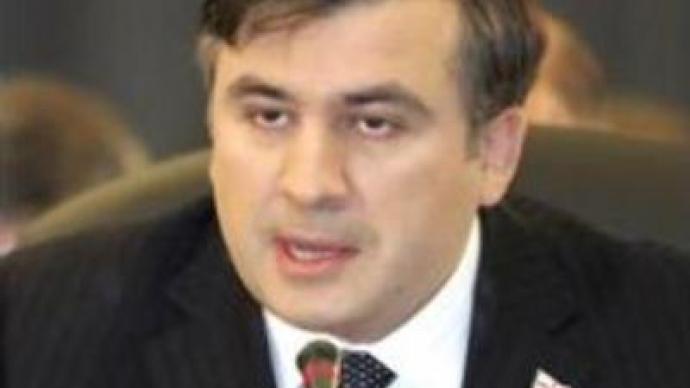 Georgia's President Mikhail Saakashvili will deliver his annual report to parliament later. But he has firmly rejected opposition calls for a debate with MPs after the speech, meaning they could now boycott.
Mikhail Saakashvili has been delivering an annual speech since 2004. In it, he talks about the countries achievements and problems as well as sets out plans for the future.The opposition though says the president and government have nothing to be proud of and want dialogue, not what they call a presidential monologue.The New Rights Party did find a way to reach the leader. They held a special news conference to ask the questions they want to be answered. The financial situation, problems with the judiciary, corruption and unsolved crimes are their main concerns.
"When we are speaking about the judiciary system renewal, about corruption, about the criminal situation and about the general situation with liberal democracy, it's the main problem. One thing is when we announce our target to become a member of NAT – it is good and we all agreed about that. But without real reforms, real changes and the stable development of reforms within the country it's impossible to succeed,"
believes David Gamkrelidze, New Rights Party leader.The Majority National Party rejects the criticism. Mr Saakashvili's supporters think the opposition is aggravating the situation on purpose and say the speech will maintain its usual format.
"This kind of speech in our parliament is traditional. The president comes once a year and speaks to the parliament and to Georgian people. This is not the time for discussion. There are a lot of countries following this model, where president meets parliament, and there are no discussions – it's a gearing of a speech. Once in 365 days we can do that,"
says Kote Gabashvili from majority National Party.Despite the opposition's negative reaction, the annual speech will go ahead. President Saakashvili will attend the parliament's spring session to deliver his annual speech. According to the constitution this is a normal procedure and the majority party categorically rejected any discussions or debates. All the opposition has to do now is wait and see, if any of their questions are answered in the speech.
You can share this story on social media: