Georgia, Ukraine leaders confirm their wish to join NATO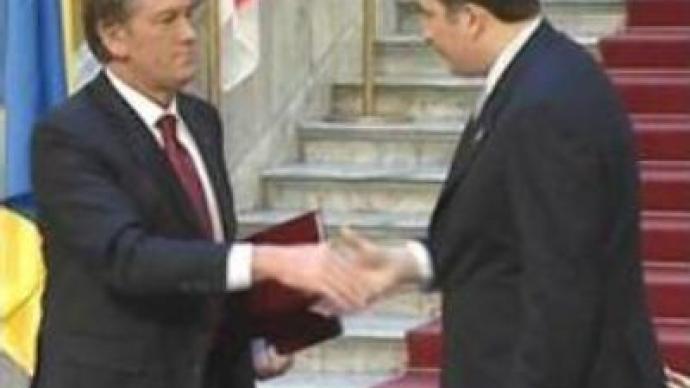 Ukraine's President Viktor Yushchenko and Georgia's President Mikhail Saakashvili have met in the Georgian capital, Tbilisi. They have confirmed their wish to join NATO.
"We want to outline that no country is allowed to veto the entry of another one into NATO. It is not against any third party – our entry into the alliance is all about Georgia's strength, future development and well-being. Everyone who is smart enough realises this and knows what it means,"
said Mikhail Saakashvili, Georgia's President.Ukraine's President once again confirmed the country's wish to join NATO. According to him, it will only strengthen the safety and security of the country. Ukraine also says it is ready to deploy its peace-keeping troops to the conflict regions of Abkhazia and South Ossetia, if needed.
"Georgia and its president have a very clear plan to resolve the problems of the conflicts in the breakaway regions. This is a way to renew dialogue. I don't think anyone can find a better solution than the two sides in question,"
noted Viktor Yushchenko, Ukraine's President.The Presidents also met officials of both governments. The officials spoke about the energy safety project, which involves the creation of a new transport corridor from the Caspian Sea via Georgia.Agreements on trade and transport were signed; including one covering the joint running of the Kerch – Poti/Batumi ferry, and another providing for legal protection of geographic brand names for alcoholic beverages and mineral water.Viktor Yushchenko and his delegation also held a brief meeting with the Georgian Parliament's Chairwoman, Nino Burjanadze, before they left the Parliament building.
You can share this story on social media: