Food retailer enlightened: Putin serious about slashing prices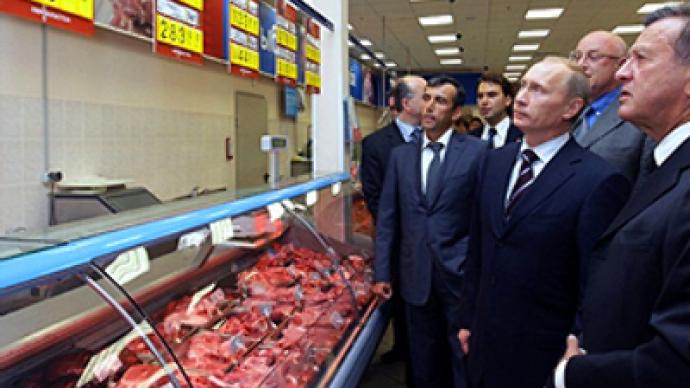 A surprise visit to a food chain store by Prime Minister Vladimir Putin prompted critical remarks from the PM, causing the retailer to drop its prices the very next day.
During a planned meeting devoted to drafting a law on state regulation of trading activities in Russia, Prime Minister Vladimir Putin stated that he needed to see firsthand the details at the heart of a confrontation between retail stores and manufacturers.
A few minutes after the prime minister spoke, his motorcade was already moving in the direction of a supermarket belonging to one of Moscow's biggest retail chains.
The visit came as a total surprise to the store's management, as well as a stunning occasion for the customers present during his visit.
Comparing the prices for products with those in his documents, Vladimir Putin asked the retail chain's managing director Yury Kobaladze why the pork meat which is supplied to the chain's stores at 160-170 rubles per kilogram is being sold at 335 rubles. The prime minister expressed doubt that such a profit margin is "normal".
"Actually it is two times more expensive. Is that normal?" Putin said.
Kobaladze immediately responded that "the prices will be cut down the next day."
But the next morning, commenting on the issue to radio station Ekho Moskvy, Kobaladze unexpectedly said that "there was no criticism toward retail chains on the part of Putin," and that the words about cutting down prices on some products were "torn out of context" by the media.
He expressed belief that "it was a normal conversation and there was place for some, so to say, jokes in it."
"What does that mean: 'we'll cut down prices tomorrow'?" Kobaladze said. "I have made no such formal announcement."
His statement, however, is contradicted by a press release circulated by Kobaladze's X5 Retail Group just hours later, which says that "special additional actions are already underway, in the framework of which 350 items of goods are sold today with a profit margin not more than 5% and 150 items without a profit margin at all," according to a report by RIA Novosti news agency.
Moreover, the press release adds: "Next week, prices for ten more items of meat products will be cut down, and a grand bargain sale starts on July 1 in all X5 Retail Group's Perekrestok supermarket stores, where the prices for more than 3,000 items will be cut by 30% to 80%."
It seems that after mulling over the issue, Yury Kobaladze eventually came to the opinion that the conversation was not quite a joke after all. Perhaps it was his long experience in the foreign intelligence services that finally gave him a clue.
Criticism can be costly
On occasion Prime Minister Putin's critical remarks can cost a man his fortune. Last year one of Russia's leading metallurgical companies, Mechel, lost more than one-third of its market value after Putin criticized its pricing policy.
Putin said that Mechel was selling its raw materials domestically at double the price of its exports, and threatened punitive action against the company, which is owned by Russian billionaire Igor Zyuzin.
The affair cost Zyuzin about half his wealth, though no strict sanctions followed. The company was subjected to a minor fine.
In 2006, Vladimir Putin, in a sudden decision, ruled to move the East Siberian-Pacific Ocean pipeline, the construction of which was just due to be started, from Lake Baikal to avoid environmental problems in the future.
Diverting the pipeline added an extra 500 km to the route and almost doubled the initial cost of the project to $11 billion.
You can share this story on social media: