Global indignation forces council to lift ban on schoolgirl's food blog
Published time: 15 Jun, 2012 13:54
Edited time: 15 Jun, 2012 18:36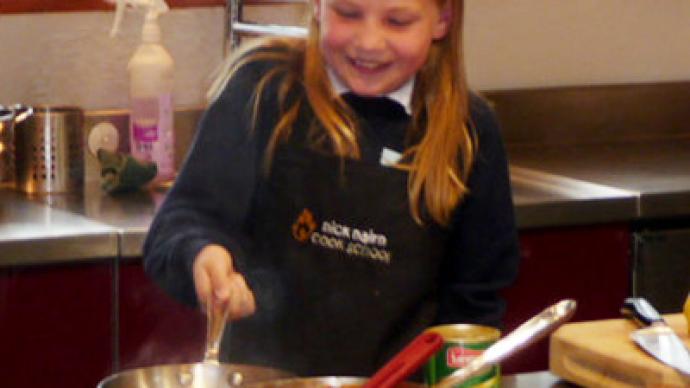 A Scottish local council has pulled its ban on a nine-year-old girl's smash-hit internet blog on school dinners after the internet buzzed in protest.
Martha Payne, from western Scotland's Argyll, had got more than two million hits on her NeverSeconds blog in just a few weeks.
Documenting the unappealing, non-nutritious lunches served in her public primary school, Martha had posted pictures of the meals, rating them out of ten.
She also noted how many mouthfuls each plate took to finish, gave the food a health rating, and recorded the price of each meal.
Setting up a donations page for Mary's Meals, a charity which provides school meals to children around the world, Martha raised almost £9,000 for charity. She even got support from TV celebrity chef Jamie Oliver, whose series Jamie's School Dinners kicked off a whole school food reform in the UK.

The blog had encouraged students and teachers from around the world to send in their pictures, sparking debate about the state of school dinners across the globe.
But the success was short-lived. The blog was stopped by Argyll and Bute Council that said in a statement Martha's pictures were threatening to staff.

The girl was reportedly pulled out of her math class by the headteacher and told she would no longer be allowed to take photos in the school canteen.
The ban came after a Scottish newspaper published a picture of Martha cooking with a celeb chef under the headline Time to Fire the Dinner Ladies.
Martha said in her blog she would "miss sharing" her thoughts with readers.
"I will miss sharing and rating my school dinners and I'll miss seeing the dinners you send me too. I don't think I will be able to finish raising enough money for a kitchen for Mary's Meals either. Goodbye," she wrote.

The decision to close the blog provoked a storm of protest on the internet.
On Friday, council leader Roddy McCuish told the BBC he had instructed senior officials to lift the ban immediately.
Scotland's education secretary Mike Russell had written to the council, calling for the "daft" ban to be called off.