First ever cartoon for deaf children made in Russia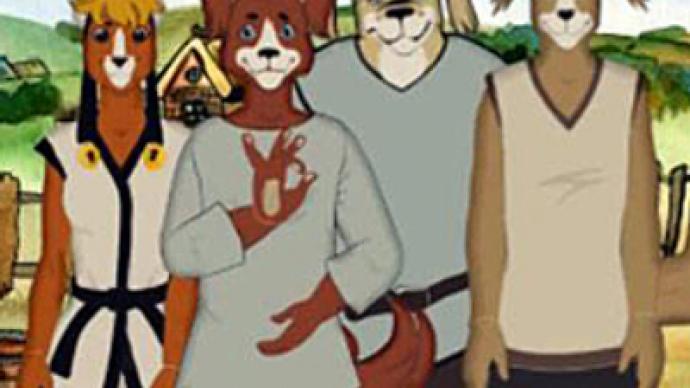 The first ever cartoon for deaf children has been created by the activists of an NGO in the Russian city of Kazan. The cartoon's characters – different dogs - speak in sign language.
This project is unique not only for Russia, but also for the rest of the world – it can rightfully be called a social experiment. The Academy of Open Communications is the NGO behind the project.
The idea grew out of the company's earlier initiative. At first they translated the beloved Russian cartoons "Prostokvashino" and "Karlsson-on-the-Roof" into sign language so that deaf children could enjoy them. In the screen's corner they could see a signer, translating into sign language.
However, the organisers faced another problem: it turned out that many children do not use correct sign language, but communicate as they are used to. "With our cartoons we also aim to teach them sign language," the director of the Academy of Open Communications, Tatiana Merzlyakova told Life News.
Dubbing-in each of the cartoon's episodes cost some 80,000 roubles (aproximately $2,600 US). The money was collected during a regional charity drive. The renewed cartoons were premiered in the Tatarstan Republic's cinemas and were accepted very warmly. Also, DVD-disks with the cartoons were released and distributed among special schools and boarding schools.
Developers started working on the next stage of the experiment – creation of a full-scale cartoon where the animated characters-dogs would speak sign language themselves.
"We had to do hard work on the characters' dialogues," said script-writer Alina Nuriakhmetova.
The sign-translators had to do their best to make the dialogues bright and interesting. Each of the three ten-minute episodes of the cartoon cost 500,000 sponsors' roubles (aproximately $16,000 US). Those who worked on the project even learned sign language from scratch.
The new cartoon will be premiered in Kazan in September. And the organisers are already working on translating other well-known films into sign language.
You can share this story on social media: