Excursion turns into psychological attack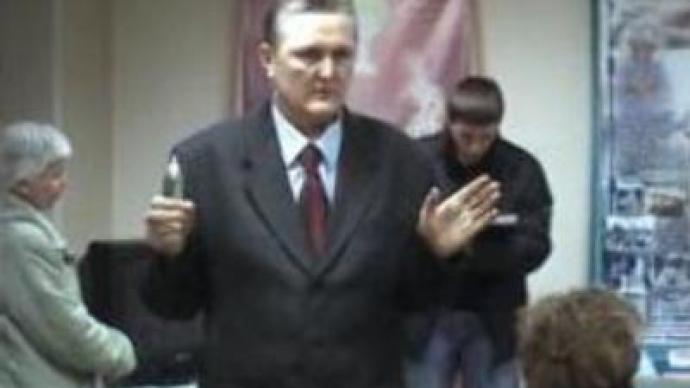 The prosecutor's office in the central Russian city of Lipetsk is investigating a case of 17 schoolchildren who claim to have been "psychologically attacked" by a religious sect.
One girl who killed herself is also thought to have attended talks given by the group.It all started as a regular school excursion. Last week the children of Lipetsk secondary school No 38 attended an exhibition that was touted as a way to learn about the history of Solovki, a group of islands famous for their religious and political past.The students were split into groups and preached to by members of the Ioann Bereslavskiy sect in a way the teachers described as an aggressive psychological attack. They used music and enchanting scents.
"The kids came out with their faces dull, some were even crying,"
recalls a teacher.
"They were arguing about something. I didn't hear what they were speaking about, but wondered why it was so quiet."
The activities were apparently so distressing that one of the girls fell immediately sick and was taken to hospital. Some time later the other teenagers sought medical treatment. Teachers say all the children that attended have been emotionally unbalanced and agitated ever since.
"For three days I had a non-stop headache," says one of the schoolchildren. "Neither holy water nor pills helped, and now I have a fever that won't go down."
The Regional Prosecutor's office is trying to find out who had given permission for the exhibition, and are also looking into what actually happened, and the activities of the sect. They are going to question both the teachers and children who attended the excursion. A local girl who jumped out of a window and killed herself is also thought to have visited the sect. Nine members of the sect including 3 Ukrainian citizens were detained for questioning.
"During the inspection more than a hundred books and brochures were found and seized along with video tapes, DVDs and other materials of religious content,"
says an official from the Prosecutor's office. One of the confiscated DVDs shows a staged play where the main roles are acted by children. At the end they clothe themselves in black and kill themselves before turning into white swans. As the investigation continues, the school excursion could teach a very costly lesson.
You can share this story on social media: