#AnonymousUK hackers post far-right members' contacts details online
Published time: 29 May, 2013 14:54
Edited time: 29 May, 2013 15:09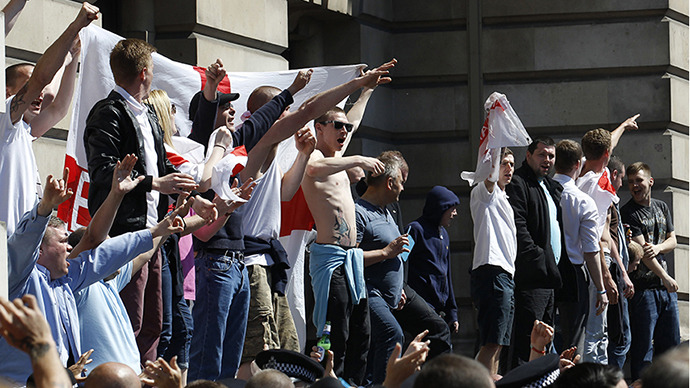 A list appearing to show the full names and addresses of the controversial English Defence League (EDL) has been published online by Anonymous-linked hackers. The list also includes phone numbers of senior members and criminal convictions.
The UK witnessed a rise in Islamophobic attacks following the murder of soldier Lee Rigby, 25, on May 22. He died of multiple stab wounds, an autopsy found on Tuesday. One of the suspects reportedly had links to Muslim extremists.

One thousand protesters joined an EDL march on Monday, with members chanting 'Muslim killers off our streets' as they marched on the UK prime minister's office.

Further attacks have included attempted arson of a mosque in Grimsby, marches in Newcastle which drew somewhere between 1,500 and 2,000 people, and further arrests for violent threats and incitement of hatred against Muslims.

The names and addresses of some 270 members across England were pasted online shortly after the spike in anti-Islamic action.

#AnonymousUK claims responsibility for the list's publication, stating that they were acting in collaboration with #ZHC (ZCompany Hacking Crew) and #OpEDL. "They should have expected us," the note states, also ominously instructing the group to "expect more."

Anonymous released an audio message on Tuesday, uploaded to YouTube prior to the hacking attack, stating that following Rigby's murder, the group was using it as a justification for heightening their activities.

"[You] have used this as another excuse to further spread your campaign of hate, bigotry, and misinformation," it said. "Under the guise of national pride you have instigated crimes against the innocent and incited the subjugation of Muslims."

"We will not allow your injustices, your lies, and your stupidity, to further radicalize our youth into fearing and despising their fellow man." The note concluded with, "We are everywhere, you cannot hide, you cannot win."


Some EDL members had apparently anticipated the attack, with the list of names linking to a Facebook screenshot, giving advice such as "change your passwords daily." The national group page also said that it would be unpublished by Wednesday night.


The list of crimes committed by the listed British EDL members is extensive.

One member set fire to a woman's hair and racially abused a passer-by after drinking heavily in April 2012. He chanted the name of the English Defence League and yelled: "I am racist and proud of it," according to local paper Huddersfield Daily Examiner. 

Another member made national news after violently attacking their daughter and her new boyfriend because he was black.

According to the list, one gang of EDL members were arrested in Leeds in June 2011, after throwing a barrage of bottles and rocks at a Rage Against Racism gig, injuring two people, with one having his teeth knocked out.

The dataset also includes one member from the small island of Tonga, in the Pacific Ocean, and the odd member from Spain, Norway and the US.