Demonstrations banned in Tallinn until May 11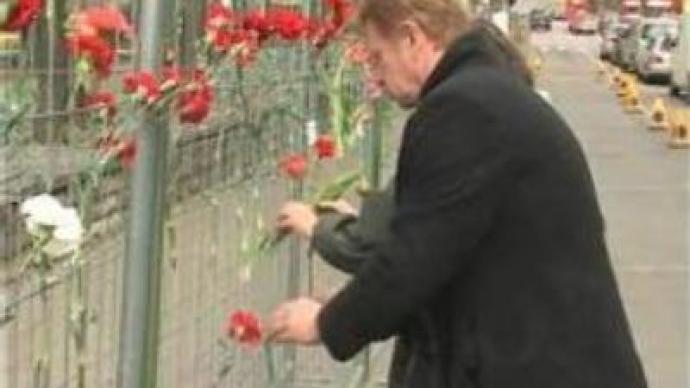 Victory day celebrations have been placed under restrictions in Tallinn. Authorities banned all demonstrations until May 11. Meanwhile, people placed flowers on a fence at the former Bronze Soldier's site.
The statue was removed from that place last month. Before that the monument was located in Tallinn's centre. The site has been heavily guarded by police on May 9.Several thousand visited Tallinn's military cemetery, where it now stands, many once again showing their anger over its relocation.
"For many people the monument in Tallinn's centre was not only a memorial to killed people. It is something we were born and lived with, and I think the relocation of such a monument resembles how wild hordes destroyed ancient holy Buddhist sites in Afghanistan,"
Andrey Sarenkov from Anti-fascist Committee of Estonia said.Speaking to veterans in Red Square on May 9, President Putin condemned those who desecrate memorials to war heroes. The Russian leader said no one has a right to disrespect those who died.
"Those who are trying today to belittle this invaluable experience, those who desecrate monuments to the heroes of the war are insulting their own people and sowing discord and new distrust between states and peoples. We have no right to forget the causes of any war. We should look for our mistakes in times of peace. Nowadays these threats are not decreasing; they are just reappearing in a new guise. Their roots are in the ideology of confrontation and extremism. These new threats, like in the times of the third Reich, include disrespect for human life. They are the same ambitions for dominance in the world,"
Vladimir Putin stressed.
You can share this story on social media: