Daring adventurers walk on around the globe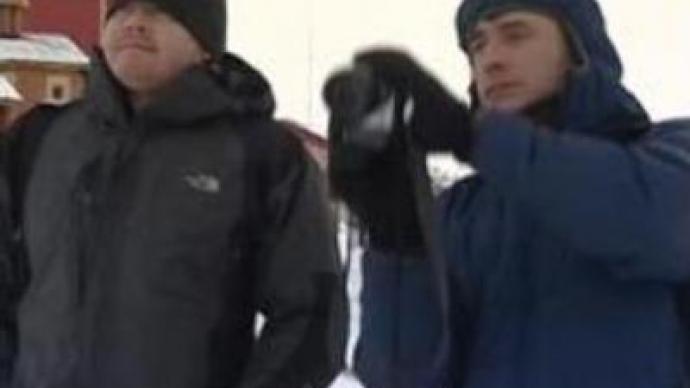 British ex-paratrooper Karl Bushby is set to continue his attempt at being the first person to walk an unbroken path around the world. His trip was interrupted in Russia last year when he was arrested for not crossing at a checkpoint.
He and his fellow adventurer Dimitri Kieffer, who joined Karl for crossing the Bering Strait on foot, were threatened with being banned from the country which would've ruined the record attempt, which began in 1998. However after extensive negotiations, the walk's finally been allowed to continue.Now the two travellers are in the Chukotka's capital Anadyr fixing the papers to avoid any trouble.
"There are some problems with equipment that we brought in to the country and we need to get clarification that we can carry, use and operate satellite phones and GPS etc. I believe that will be sorted out this week and we'll be good to go, so at the end of this week we should be on the ground on the move,"
says Karl.Most of all Karl and Dimitri are afraid of polar bears which can be dangerous in the spring since Russian law doesn't allow them to carry handguns and flairs.
"The polar bears on the coast can be more hungry than the ones we saw on the Bering Strait because they are used to deal with villages and to be more aggressive than on the Bering Strait,"
believes Dimitri.Their route mainly lies on the coast – the most populated part of the region. Away from this area, the population density is among the lowest in the world with only a few people living in the thousands and thousands of kilometres of snow, ice and swamps.Karl and Dimitri say it is like "the last frontier" for them and one of the biggest challenges they will make. They are bringing around 400 kilograms of gear, from skiing equipment and clothes to fuel and dehydrated food, to keep them going during the 45-day journey.
You can share this story on social media: