Crisis-hit town faces hunger and poverty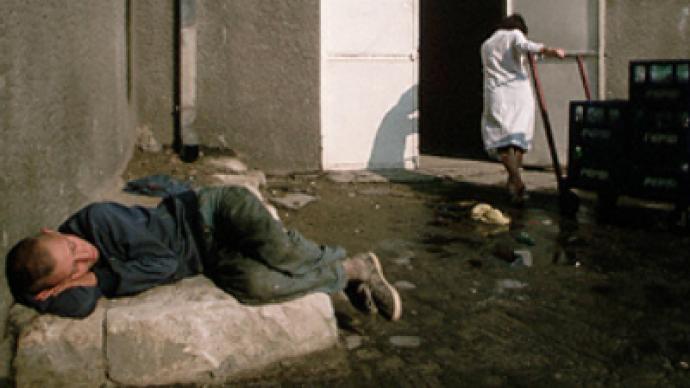 The residents of Svetlogorye, an industrial town in the Far East of Russia, are learning to cope without money and food. After months of demanding their unpaid salaries many are experiencing misery and unemployment.
The average monthly salary at the tungsten plant in Svetlogorye was between 6 to 10 thousand rubles, around $180-300.
The money owed to the metal plant workers now exceeds 9 million rubles – about $270,000.
During a rally on Saturday workers at the plant which shut down last October demanded the state buys the enterprise, re-opens the facility and obliges the current owners to pay the salary arrears.
The chair of the Primorye region branch of Russian Chemical Workers Union, Maksim Saenko, told the Ria Novosti news agency:
"The locals have said they won't let representatives of the Primorye region administration out of the settlement until they get concrete answers."
The security guards at the plant's toxic waste dump say they're ready to strike – and that may lead to the leak of harmful substances.
Representatives of the regional authorities have promised the protesters they will take steps to find the plant owner.
The no-money saga
The plant workers went on strike last summer demanding unpaid salaries. The strike ended after they received partial back pay. But in October last year the plant was shut down, leaving almost half of the town population out of work.
Under Russian law non-payment of salaries is illegal. But no one has been able to contact the plant's owners writes PrimaMedia.ru
Local shops are refusing to sell food on credit and the electricity company is threatening to cut off apartments as bills have not been paid for several months. Desperate residents are asking authorities to organise two free meals a day for their children as families cannot feed them.
The town is rife with rumours the plant faces complete closure – if true almost 300 people would be left jobless. The regional metal industry is one of the weakest points in the area's economy. In the global financial crisis metal processing has been one of the worst hit industries.
Demand has decreased causing many plants to cut production or even shut down.
In almost all cities and villages dependent on metal plants the situation mirrors that of Svetlogorye.
You can share this story on social media: